Archives for March 2018
ASE Headquarters will be closed Friday, March 30. Normal business hours will resume Monday, April 2.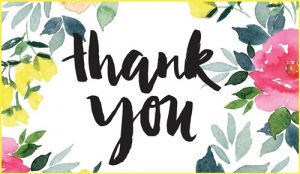 The ASE Foundation welcomed the first day of spring by holding its third annual Spring Giving Day with a goal to raise $5,000 in just 24 hours. We came SO CLOSE with a total of $4,475 in donations yesterday! We may not have reached our stated goal but we extend a huge thank you to the 33 donors who supported ASEF. We had a large group of members who gave in honor of Brian Haluska, PhD, MSC (HONS), MSC, RDCS, AMS, FASE, who recently lost his battle with cancer. We are so grateful for gifts like yours – you are what makes the Foundation successful and meaningful!
If you missed this opportunity, it is not too late to support the Annual Appeal. Read here for more information on how to get involved with this ongoing work.
ASE has expanded its library of translated guideline documents with the addition of a new Spanish translation of " Recommendations for Multimodality Cardiac Imaging in Patients with Chagas Disease."  The translation and review of this document was led by a team of physician volunteers, Aldo Prado, MD, FASE, Juan Ignacio Cotella, MD, and Harry Acquatella, MD, FASE.
Many of the guideline documents have been translated in Chinese, French, Georgian, Japanese, Persian, Portuguese, Spanish, and Vietnamese. Please share these with colleagues who may benefit from them. All ASE Guidelines are freely available to all members of the global medical community in ASE's effort to improve the quality of patient care worldwide.
Please vote for the 2018 Slate of Officers and Directors using this ballot. You may only vote for one person for each position. If you prefer to vote for someone other than the person nominated, you may write in additional nominees in the blank spaces provided. All write-in nominees must be active ASE members. The new officers and directors will be inducted at the ASE 2018 Annual Awards Presentation and Edler Lecture session in Nashville, TN, on Saturday morning, June 23, 2018. This session is open to all Scientific Sessions registrants. Your ballot must be received by May 1, 2018. Learn more about each nominee here, and vote today.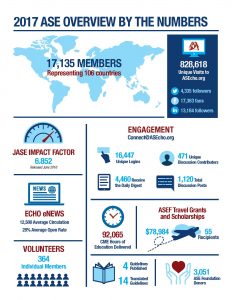 We are pleased to share the 2017 ASE by the Numbers report with our members. This report reflects the excellent work of the Society during 2017. Membership reached a record of more than 17,000 members last year. Having this many incredible members provided an opportunity for ASE and its Foundation to have a worldwide impact on education, engagement, and patient care. We hope you are proud to be a part of an amazing organization with such a broad and impressive reach.
The ASE Foundation is welcoming the first day of Spring by holding its third annual Spring Giving Day on Tuesday, March 20th! Mark your calendars and plan to join us as we spring into action for this year's Annual Appeal with a goal to raise $5,000 in 24 hours. Every gift – $15, $25, $50, or any amount that is right for you – brings us closer to our target. Help us make this our most successful Spring Giving Day yet!
Your gift on Spring Giving Day will foster the future of echocardiography by supporting scholarships and travel grants to young professionals in the field. Each and every gift you give to the ASE Foundation makes a difference in the projects you support and the people you help. 100% of all giving is allocated to charitable projects. Learn more here.
Join Thomas R. Porter, MD, FASE, on Thursday, April 19 at 1:00 PM Eastern Time, for an interactive live webinar as he reviews Clinical Applications of Ultrasonic Enhancing Agents in Echocardiography: 2018 ASE Guidelines Update. As ASE's chair to the guideline writing group, Dr. Porter will discuss several important developments and recommendations for the use of ultrasound enhancing agents (UEAs also known as contrast) and how it has become an integral part of echocardiography practice in various clinical settings. Earn 1 AMA PRA Category 1 Credit™ for attending this live webinar event. Registration is free for ASE members. Register online today!
These award recipients will be honored at the ASE Foundation's 9th Annual Research Awards Gala, Sunday, June 24, 2018, at the Gaylord Opryland Resort & Convention Center in Nashville, TN, during this year's Scientific Sessions. Click here for the Gala online registration. Gala tickets will not be available for sale on-site.  Questions about the Gala? Please email gala@asecho.org.
Excellence in Teaching in Pediatrics
Meryl S. Cohen, MD, FASE, Children's Hospital of Philadelphia, Philadelphia, PA
Meritorious Service Award
Sherif F. Nagueh, MD, FASE, Houston Methodist DeBakey Cardiology Associates, Houston, TX
Outstanding Achievement in Perioperative Echocardiography Award
Jonathan B. Mark, MD, Duke University Medical Center, Durham, NC
Physician Lifetime Achievement Award
Navin C. Nanda, MD, FASE, University of Alabama, Birmingham, AL
Richard Popp Excellence in Teaching Award
Theodore Abraham, MD, FASE, University of California, San Francisco, San Francisco, CA
Cardiovascular Sonographer Distinguished Teacher Award
Priscilla Peters, BA, RDCS, FASE, Cooper University Hospital, Camden,  NJ