Archives for April 2019
ASE Headquarters will be closed on Friday, April 19. Normal business hour will resume on Monday, April 22.
ASE Past President, Neil J. Weissman, MD, FASE, from MedStar Health, Washington D.C., has been named as this year's recipient of ASE's Mentorship Award. The Mentorship Award recognizes a senior physician or sonographer who has demonstrated exceptional mentorship within ASE. The Mentorship Award specifically acknowledges individuals who help younger members advance within our Society and thus cultivated ASE's future leaders. Dr. Weissman is being honored for his work as Chair of the Governance Taskforce which initiated the first ASE Leadership Academy to mentor rising leaders and his active and ongoing tutelage of other Society leaders.
Dr. Weissman will be recognized as the ASE Mentorship Award Recipient during the Awards Presentations and Edler Lecture Plenary Session on Saturday, June 22, at ASE 2019 in Portland, OR.
Join ASE Past President Susan E. Wiegers, MD, FASE, on Tuesday, May 7 from 11:30 AM – 12:30 PM ET for a live webinar as she reviews the recently published Advanced Training Statement on Echocardiography. Dr. Wiegers served as Co-chair of the document and will use this expertise to cover the difference between Level 2 and Level 3 training, the requirements for a Level 3 training program, and the flexibility within those programs. Topics covered will include the concept of competency based education and evaluation, the minimum recommended procedural numbers, and the pathway for training in three or four years. General cardiovascular program directors, echo training directors, trainees, and recent graduates will learn the updated recommendations to achieve Level 3 competence in Echo. Registration is FREE for anyone who wants to participate in this event.
Interested in this topic, but the scheduled time is not convenient for you? Register for the live webinar and an email will be sent to you once the recorded webinar is available in your content on ASEUniversity. You may then view it at your convenience.
These award recipients will be honored at the ASE Foundation's 10th Annual Research Awards Gala, Sunday, June 23, 2019, at the Hilton Downtown Portland Hotel, during this year's Scientific Sessions. Want to show your support for these worthy individuals? Purchase a Gala ticket or buy a table to honor them! Don't delay, get your Gala tickets online today. Tickets will not be for sale on-site and have sold out every year. Questions about the Gala? Please email Gala@ASEcho.org.
Physician Lifetime Achievement Award
Jae K. Oh, MD, FASE, Mayo Clinic, Rochester, MN
Sonographer Lifetime Achievement Award
Jane E. Marshall, RDCS, FASE, Massachusetts General Hospital, Boston, MA
Richard Popp Excellence in Teaching Award
Steven J. Lester, MD, FASE, Mayo Clinic, Scottsdale, AZ
Council on Pediatric and Congenital Heart Disease Founders Award
Lindsey D. Allan, MD, FRCP, Kings College Hospital, London, UK
Outstanding Achievement in Perioperative Echocardiography Award
Solomon Aronson, MD, MBA, FASE,  Duke University Medical Center, Durham, NC
Meritorious Service Award
Mary Alice Dilday, American Society of Echocardiography, Durham, NC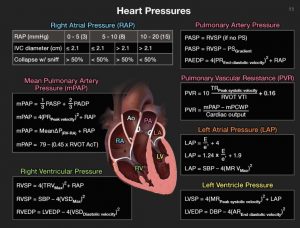 NOW AVAILABLE! The Echocardiography Formula Review Guide: Native Valves and Intracardiac Pressures pocket guide is now for sale!
What is it?
This unique, spiral-bound, 6″ x 8″ formula pocket guide is a must-have reference for every practicing echocardiographer, imaging trainee, and sonographer. The illustrative cards detail the echocardiographic quantitative evaluation of native valve regurgitation and stenosis, as well as how to determine intracardiac pressures. If you are looking to become more quantitative in your reports, need a refresher on quantifying native valve disease, or studying for boards, this formula handbook will be useful on a daily basis.
What is the price?
Only $20 for members!
Where can you find it?
See it on the ASEMarketPlace Store Front under New 2019 Products Now Available.
Find it under the Pocket Guidelines in ASEMarketPlace.
In the Member Portal, you can find it under 2019 New Products, Exam Prep, and Pocket Guides.
Many other new educational resources have been developed to help you enhance your practice. These low-cost primers are developed with the help of our volunteer content advisors such as the expert clinician Roberto Lang, MD, FASE, from the University of Chicago. There is something for every level of training. Make sure you log into your member portal to receive your discount.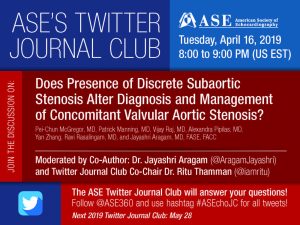 Mark your calendar! Interact with your colleagues in our next Twitter Journal Club on Tuesday, April 16, from 8:00 – 9:00 PM US EST as we review Does Presence of Discrete Subaortic Stenosis Alter Diagnosis and Management of Concomitant Valvular Aortic Stenosis?, from ASE's case reports journal, CASE.
Follow @ASE360, and please plan to join ASE's journal club. Be sure to use the hashtag, #ASEchoJC, for all tweets. Click here to find out when the Twitter Journal Club is taking place in your timezone. If you have any questions on this event, please contact Arissa Cooper at acooper@ASEcho.org.
All members are invited to vote for the 2019 Slate of Officers and Directors using this ballot. You may only vote for one person for each position. If you prefer to vote for someone other than the person nominated, you may write in additional nominees in the blank spaces provided. All write-in nominees must be active ASE members. The new officers and directors will be inducted at the ASE 2019 Annual Awards Presentation and Edler Lecture session in Portland, OR, on Saturday morning, June 22, 2019. This session is open to all Scientific Sessions registrants. Your ballot must be received by May 17, 2019. Learn more about each nominee here, and vote today.