What Is the Impact to Echocardiography Practices?
On November 1, 2019 the Centers for Medicare & Medicaid Services (CMS) released the calendar year (CY) 2020 final rules for the Physician Fee Schedule (PFS), Outpatient Prospective Payment System (OPPS) and Quality Payment Program, which includes several significant policy and payment changes impacting cardiologists.
Here is a topline summary of the most important changes to the payment rates and policies for services paid under Medicare.
Medicare PFS
Slight increase in MPFS conversion factor: The CY 2020 PFS conversion factor was finalized at $36.09, a slight increase above the CY 2019 PFS conversion factor of $36.04.
Key Issue – CPT Code +93356 – Myocardial Strain Imaging
Myocardial strain imaging is used for the quantitative assessment of myocardial mechanics using image-based analysis of local myocardial dynamics. There will be a new category I CPT Code published for use on January 1, 2020. As part of the approval process, CMS has reviewed the RUC-recommended work RVU and practice expense inputs. Both the wRVU 0.24 and related direct PE inputs were accepted.
ASE is pleased to announce the establishment of Current Procedural Terminology (CPT) add-on code +93356®[1] to report myocardial strain imaging using speckle tracking derived assessment of myocardial mechanics. ASE was pleased to collaborate with the American College of Cardiology (ACC) on this successful CPT application. Code +93356 will be effective for Medicare claims processing January 1, 2020 or later.
It is intended to report myocardial strain imaging in conjunction various transthoracic echocardiography procedures 93303, 93304, 93306 and 93308 in addition to stress echocardiography services 93350 and 93351. Additionally, the intent is for this code to be reported once per imaging session.  Please refer to the AMA CPT Codebook for additional details.
We are continuing to monitor and will update members as the new code becomes active. ASE is pleased that myocardial strain imaging has transitioned from a category III (tracking) CPT code to a category I (Medicare reimbursable) CPT code. This is an important milestone, and the first new echocardiography service to achieve CPT category I status in decades.
Click here to access ASE's FREE, 30 minute webinar that focuses on the latest HOPPS and Physician Fee Schedule (PFS) changes to echo reimbursement and will help you prevent the most common errors in echo coding. A specific focus will be given to the new Myocardial Strain Imaging, CPT Code +93356.
[1] ®Copyright AMA CPT 2020 Professional Codebook
This is the first new echo technology to achieve CPT editorial panel category 1 status in decades!
CMS finalizes plan to adopt Evaluation and Management (E/M) coding and reimbursement changes proposed by the American Medical Association (AMA) beginning 2021.  CMS accepted a plan to align with recent changes laid out by the AMA Current Procedural Terminology (CPT) Editorial Panel, which retains five levels of coding for established patients, reduces the number of levels to four for new patients, and revises the code definitions. The revised coding definitions is paired with a decision to pay for each level of service rather than use a blended rate.  Additionally, CMS is incorporating recommendations to revise work and practice expense (PE) inputs for E/M services.  The CPT code changes allow clinicians to choose the E/M visit level based on either medical decision making or time. Finally, CMS is not adopting changes to the global surgery codes for CY2021, as they continue to evaluate data. CMS finalized this plan for implementation January 1, 2021.
Welcomed news: ASE worked with the AMA and a coalition of specialty societies to get CMS to rethink collapsing payment for E/M code levels, and subsequently decided to support the AMA's proposed E/M changes as they moved through the CPT and Relative Value Scale Update Committee (RUC) processes. In the 2020 Medicare PFS (MPFS) final rule, CMS finalized plans to adopt the AMA CPT changes and RUC valuations.
The AMA RUC background, recommendations and the RUC votes on E/M are posted at: https://www.ama-assn.org/practice-management/cpt/cpt-evaluation-and-management
CY 2020 Medicare Physician Fee Schedule Reimbursement Rates for Echocardiography Services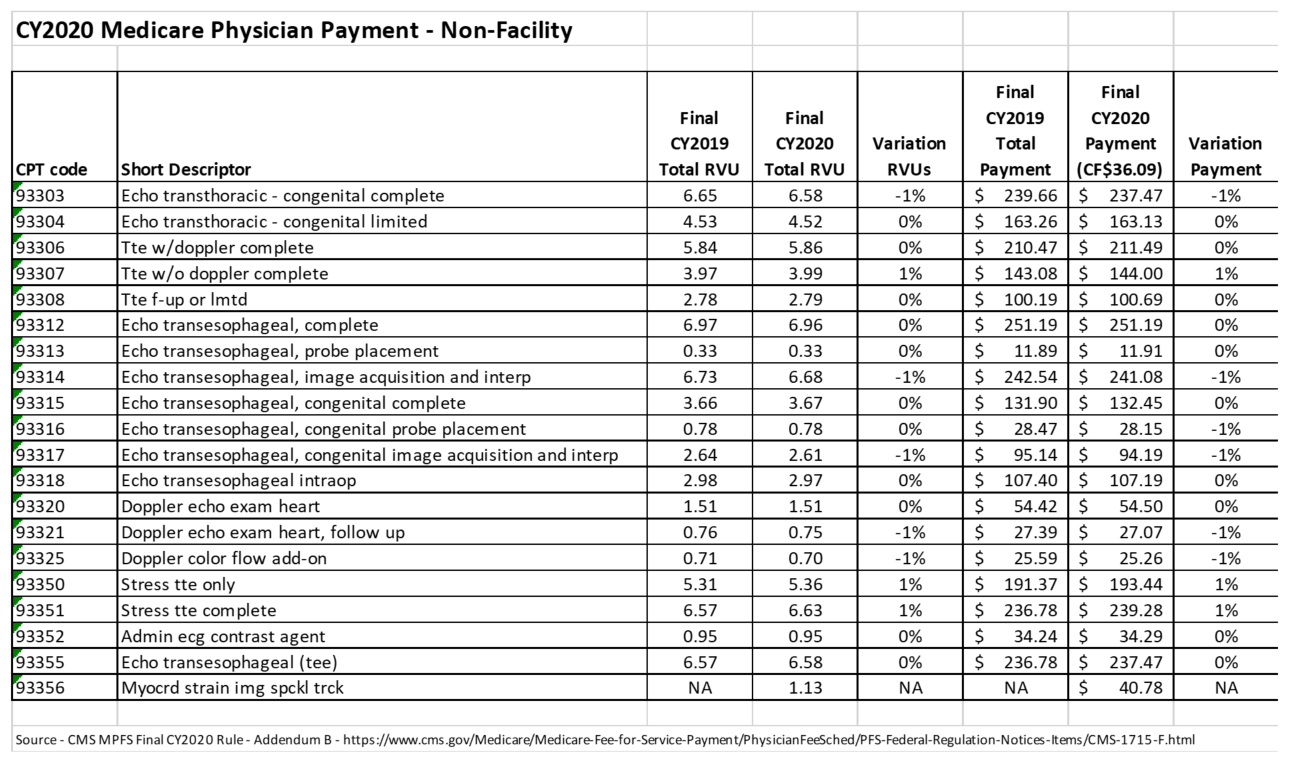 Quality Payment Program
Key proposals finalized for 2020 performance year of the Quality Payment Program:
Increase performance threshold from 30 points to 45 points.
Additional increase for exceptional performance to 85 points in 2020.
Quality performance category is weighted at 45%.
Cost performance category is weighted at 15%.
Promoting interoperability performance category is weighted at 25%.
Increase data completeness threshold for submitting quality data.
Increase threshold for clinicians who complete or participate in the Improvement Activity performance category for group reporting.
Updates to requirements for Qualified Clinical Data Registry (QCDR) measures and the services that third-party intermediaries must provide (beginning with the 2021 performance period).
Initial aspects of the MIPS Value Pathways (MVPs) will commence in the 2021 MIPS performance period, including the extent of first year implementation or the feasibility of an initial pilot. CMS envisions an initial uniform set of Promoting Interoperability measures in each MVP and will consider customizing MVP Promoting Interoperability measures in future years.
For additional information please see the Quality Payment Program Fact Sheet
Hospital OPPS Rule
Updates to OPPS Payment Rates – In accordance with Medicare law, CMS is updating OPPS payment rates for hospitals that meet applicable quality reporting requirements by 2.6 percent. This update is based on the projected hospital market basket increase of 3.0 percent minus a 0.4 percentage point adjustment for multi-factor productivity (MFP).
Encouraging Site Neutrality – The final rule with comment period includes a policy to operational implementation of prior authorization for July 1, 2020 for certain Outpatient Department Services.  This continues CMS' efforts to eliminate payment differences between certain outpatient sites of service.  Additionally, rather than finalize an earlier proposal requiring hospitals to publicize a list of standard charges, CMS will summarize and respond to concerns about hospitals price transparency for "shoppable" services in forthcoming final rules. ASE will continue to review to determine if there are impacts on echocardiography services.
Method to Control for Unnecessary Increases in Utilization of Outpatient Services
As finalized in last year's rule, CMS is completing the two-year phase-in of the method to reduce unnecessary utilization in outpatient services by addressing payments for clinic visits furnished in the off-campus hospital outpatient setting. Clinic visits are the most common service billed under the OPPS. CMS acknowledges that the United States District Court for the District of Columbia vacated the volume control policy for CY 2019 and they are working to ensure affected 2019 claims for clinic visits are paid consistent with the court's order.  However, they do not believe it is appropriate at this time to make a change to the second year of the two-year phase-in of the clinic visit policy. The government has appeal rights, and is still evaluating the rulings and considering, at the time of rule release, whether to appeal from the final judgment.
MPFS Rule Text: Final Rule
OPPS Rule Text:   Final Rule