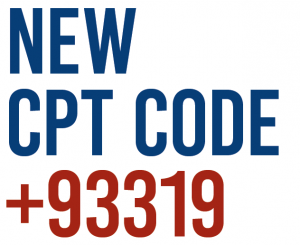 Effective January 1, 2022, ASE was proud to see the establishment of Current Procedural Terminology (CPT) add-on code +93319.
This code describes the clinical work involved in 3D echocardiographic imaging and post-processing during transesophageal echocardiography, or during transthoracic echocardiography for congenital cardiac anomalies and includes the assessment of cardiac structures and function (cardiac chambers, valves, left atrial appendage, interatrial septum, and function for example), when performed.
To use this new add-on code and be reimbursed properly, you must list this new CPT code in addition to the appropriate base echocardiography code: congenital transthoracic (CPT codes 93303, 93304) or Transesophageal Echocardiography (CPT codes 93312, 93314, 93315, 93317). It is important to note that this is not an add-on code for CPT code 93355 since this code already includes 3D imaging for guidance of a structural intervention. CPT codes 76376 and 76377 are not add-on codes and are appropriate for reporting 3D-rendering services provided on a date separate from the base-imaging study.
This code, along with the RUC-recommended physician work RVU of 0.50, is now effective.
Often it takes time for commercial payers to review and support new technology codes/policies and the associated literature. The COVID-19 pandemic may delay the process even further. ASE suggests that providers always verify with the payers if authorization must be approved in advance.
Questions about coding? ASE provides members access to a coding expert. Log in to your ASE Member Portal and click "Advocacy," then "Ask A Coding Expert" to submit your questions. ASE created a new coding newsletter with important information about changes in the CPT codes and policies in 2022.