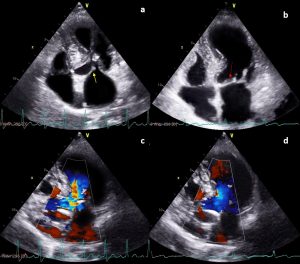 The latest issue of CASE, ASE's open access case reports journal, is available and includes "Acquired Dynamic Left Ventricular Outflow Tract Obstruction: A Rare Complication of Acute Myocardial Infarction" by Kapil Rajendran, MD, DM, Sivaprasad Kunjukrishnanpillai, MD, DM, DNB, and Baiju Rajan, MD, DM. The CASE Editor-in-Chief, Vincent L. Sorrell, MD, FASE, noted, "This CASE report demonstrates the importance of recognizing that dynamic LVOT obstruction may occur due to the compensation of the hyperkinetic basal LV during an acute myocardial infarction. In their excellent report, Figure 5 shows the acute LVOTO and its resolution during serial echocardiography follow up. Figure 6 emphasizes how the aortoseptal angle may contribute to the likelihood of this complication of an MI. This is something all echo labs need to be aware of."
Additionally, this issue includes two unusual congenital heart disease cases, three cases highlighting echo's role in diagnosing cardiac tumors, an uncommon cause of presyncope after bypass, and a rare veterinary case of atrial dyssynchrony in a dog.
The latest editorial from Dr. Sorrell, "#EchoFirst Wins Gold, Silver, and Bronze," explores parallels with the Olympic Games to highlight the exciting environment, comprehensive array of capabilities, and vital role of teamwork that exemplify today's echo lab.
Explore the CASE Homepage's newest feature, Sonographer Sound-Off. This interactive element provides an opportunity for sonographers to share tips and tricks they have learned in everyday practice. Congratulations to Agatha Kwon, BSc (Hon), GradDipCardiacUltrasound, The Royal Brisbane and Women's Hospital, Queensland, Australia, for supplying the images and text for the INAUGURAL Sonographer Sound-Off. Email us if you'd like to submit or have questions!