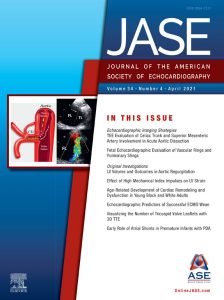 The April JASE CME article, "Association of Left Ventricular Volume in Predicting Clinical Outcomes in Patients with Aortic Regurgitation," by Vidhu Anand, MBBS, et al, offers some important new insights for AR assessment. Co-author Patricia A. Pellikka, MD, FASE, noted that, "Although the ASE guidelines have recommended that for accuracy, the left ventricle is measured volumetrically rather than by using linear measurements, the ACC/AHA guidelines for valvular heart disease have recommended linear measurements. In 1,100 patients with >moderate aortic regurgitation, volumetric measurements of the left ventricle were reproducible, and superior to linear measurements in their relation to both mortality and symptoms."
Additional clinical investigations explore cardiac remodeling and progression of asymptomatic aortic regurgitation, mechanical index and preload as factors influencing LV strain, age related cardiac remodeling in young black and white adults, novel echo observations in Anderson-Fabry disease, echo predictors of successful ECMO weaning, and the role of atrial communications in premature infants with PDA. A preclinical investigation, one of eight technology papers in this issue, looks at echocardiographic molecular imaging of the effect of anticytokine therapy for atherosclerosis. Two review papers explore echocardiographic imaging strategies – one to identify celiac and superior mesenteric artery patency in acute aortic dissection and the other on fetal aortic arch anomalies. Several brief research communications and letters to the editor round out the explorations.
ASE President Judy Hung, MD, FASE, writes about ASE's top-notch advocacy work in her President's Message. Amy Dillenbeck, MS, ACS, RDCS, FASE, and Madeline Jankowski, BS, RDCS, FASE, share recommendations for successful sonographer onboarding in the Sonographer's Communication.
The new Associate Editor Corner on the JASE homepage, produced by Jordan Strom, MD, FASE, provides an insightful conversation with JASE Associate Editor Vincent Sorrell, MD, FASE, about compelling issues.