ASE is pleased to offer the opportunity for registrants attending ASE Live Courses in 2023 the option to purchase products in advance to pick up at the course to avoid having to pay for shipping. Please review these webpages and make your selections today. Refer to the ordering instructions on this page to place your order. View the ASE 2023 Product Price Sheet to see all the discounted product prices.
Utility of 3D Echocardiography: Promises and Perspectives
Pricing: $157.50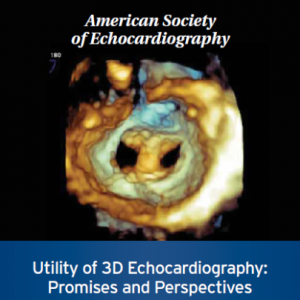 Three-dimensional (3D) echocardiography has multiple advantages for the visualization of cardiac anatomy, chamber quantification, and guidance of transcatheter interventions.
In this course, experts in 3D echocardiography address essential topics in a case-based approach with multiple examples. The course begins with history of the technology and moves to the basics of image acquisition and display. Subsequent lectures focus on chamber quantification and valvular heart disease. The use of 3D echocardiography to guide transcatheter interventions is also examined in depth. Finally, a vision for the future of 3D echocardiography, including virtual reality, fusion imaging, and holographic display is presented.
Transesophageal Echo in SHD
Pricing: $157.50
Experts in interventional echocardiography for transcatheter interventions for structural heart disease (SHD) are in high demand. Given the rapid development of new imaging technologies paired with the exponential expansion of novel interventional approaches and devices, an enormous educational need has been identified.
This case-based learning tool caters to this growing educational need of cardiologists, cardiac anesthesiologists, fellows, sonographers, and other individuals involved in procedural image guidance with transesophageal echocardiography (TEE). This product not only illustrates the utility of real-time two- and three-dimensional TEE in interventional echocardiography but also demonstrates the procedure-specific imaging needs in SHD. In addition, TEE in SHD reviews appropriate terminology to facilitate communication between the interventional echocardiographer and the operator. Due to its case-based nature, this product also highlights potential complications of percutaneous interventions in SHD and how to use TEE to provide safer and more efficacious care. Case categories include: Aortic Valve-in-Valve Replacement (TAVR, ViV); Atrial Septal Defect (ASD) Closure; LAA closure: Watchman TM ; LAA Occluder: Amulet TM  Device; Mitral Paravalvular Leak Closure; Patent Foramen Ovale (PFO) Closure; Transcatheter Aortic Valve Replacement (TAVR); Transcatheter Mitral Valve Repair: MitraClip®; Transcatheter Mitral Valve Replacement (TMVR, ViV, BVP); Tricuspid Valve (ViV, TTVR); Ventricular Septal Defect (VSD) Closure. A total of 38 cases are presented. TEE in SHD will help to illustrate the important role of the interventional echocardiographer as a key member of the multi-disciplinary heart valve team.
Essentials for Proficiency in Basic Cardiovascular Ultrasound
NEW Expiration Date: May 20, 2024
Pricing: $157.50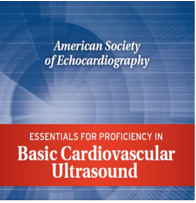 CME/MOC Credit: 13.50 AMA PRA Category 1 CreditsTM
This is an excellent resource for everyone interested in cardiovascular ultrasound. The course was designed by top physicians and professors of cardiovascular medicine. The course provides a comprehensive review of basic echocardiography and was created as a teaching tool for echocardiography fellows and others interested in learning about the use of cardiovascular ultrasound in clinical practice. This set includes 15 lectures on a variety of topics, beginning with the normal TTE and TEE examinations, and then covering the mitral and aortic valves in-depth, left and right heart function, physics, prosthetic valves, and more. Each lecture has been carefully crafted to include a thorough review of practical concepts, references to ASE's Guidelines and Standards, video examples of normal and abnormal echocardiograms, and case studies designed to provide real-word examples. A workbook correlates with the lectures to provide a printable guide for each presentation.
Focused Cardiac Ultrasound (DVD Only)
Pricing: 133.88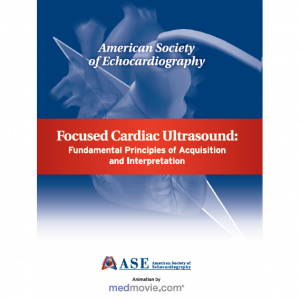 The American Society of Echocardiography's Focused Cardiac Ultrasound: Fundamental Principles of Acquisition and Interpretation is an instructional video to be used for self-guided learning and professional lectures. The DVD features several interactive sections for flexible presentation, including an easy to navigate DVD menu, imaging examples of a wide variety of pathologies, case presentations with discussions, and an interpretation practice section designed to gauge levels of familiarly with the materials presented.
Self-Study Program: Pediatric and Congenital Heart Disease (DVD Only)
Pricing: 133.88
This self-study program contains 13 presentations that you can move through at your own pace. Review the latest material on echocardiography on the following topics: path-echo correlations, diastology, mitral valve morphology and pulmonary artery acceleration time. Also included are guideline lectures on repaired tetralogy of Fallot, transposition of the great arteries, and 3D echo in congenital heart disease. This program is designed for adult and pediatric cardiologists, cardiovascular surgeons, cardiovascular anesthesiologists, fellows in training, cardiovascular sonographers, cardiovascular nurse specialists, internists, intensivists, and emergency physicians with special interest in clinical cardiology and echocardiography.
The American Society of Echocardiography designates this enduring material for a maximum of 12 AMA PRA Category 1 CreditsTM.Physicians should claim only the credit commensurate with the extent of their participation in the activity.  ARDMS, CCI, and Sonography Canada recognize ASE's certificates and have agreed to honor the credit hours toward their registry requirements for sonographers. ARDMS, CCI, and Sonography Canada recognize ASE's certificates and have agreed to honor the credit hours toward their registry requirements for sonographers. Successful completion of this CME activity, which includes participation in the activity, with individual assessments of the participant and feedback to the participant, enables the participant to earn 12 MOC points in the American Board of Pediatrics' (ABP) Maintenance of Certification (MOC) program. It is the ASE's responsibility to submit participant completion information to ACCME for the purpose of granting ABP MOC credit.
Please note: Product prices on this page are only available to registered attendees at ASE Live Courses in 2023.