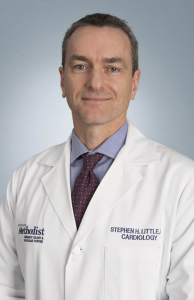 The American Society of Echocardiography (ASE) is pleased to announce the appointment of Stephen H. Little, MD, FASE, FRCPC, FACC, as the organization's new Board of Directors President, effective July 1, 2022.
Dr. Little has a strong understanding of the needs of ASE and its diverse membership from his nearly 20-year career dedicated to clinical, educational and research activities in cardiovascular ultrasound, and the numerous leadership and volunteer positions he's held within the Society.
Dr. Little is an active member and longtime leader in a variety of healthcare-related organizations, including ASE. He initially joined ASE as a cardiology fellow more than 20 years ago and has been a member of multiple committees—Information Technology, Research, Industry Relations and Public Relations, among others. He was also Chair and Co-Chair of both the Structural Heart Disease Task Force and the Committee on Guidelines and Standards. Most recently, he served on the Executive Committee on ASE's Board of Directors as the 2021-2022 President-Elect. Read more here.