If you would like to recognize a fellow ASE member as a GEM for Going the Extra Mile, p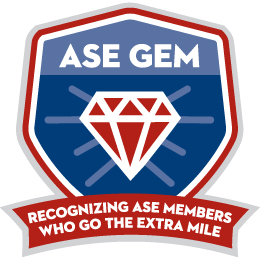 lease visit this web page for instructions on how to submit your recognition.
Below is the list of ASE members have been recognized as GEMs by their colleagues.
December 2019 GEMs
Sarika Anand recognized by David Friedman
Sarika has been an echo and vascular technician for about 7 years and has been working with our group of 3 cardiologists. She is conscientious and engaged in high quality patient care, communicates well, and takes on echo lab performance improvement well.
Heidi Borchers recognized by Colleen Cailes
"Heidi (otherwise known as Yoda at work) really goes the extra mile to make her families and patients comfortable. She shares her vast knowledge about congenital heart disease with her team members, fellows and cardiologists."
November 2019 GEMs
Jackie Luther recognized by Michelle Cordio
"Jackie always goes the extra mile to educate future sonographers. She was one of the first to do echocardiography here. She has been educating clinically and didactically for over 40 years. Her students have 100% pass rate on the adult echo board exam."
October 2019 GEMs
Alicia Amour recognized by Madhav Swaminathan
"Alicia is a phenomenal sonographer. On a recent visit by ASE staff to our Peds echo lab, she gave a fantastic presentation to the lab about how to participate in ASE activities and become good members. A volunteer effort and a superb initiative. Thanks!"
Amanda Geilfuss recognized by Kelly Kasir
"Amanda is a dedicated cardiac sonographer that promotes quality and an educational experiences in our lab. She is an excellent mentor to our students and a resource person to the other sonographers. I am so happy that I have Amanda on my team :-)"
Christal Wilson recognized by Allyson Boyle
"She has grown so much in this field. She keeps up with new guidelines, is very efficient, and a great mentor to her peers."
If you have questions, please email: ASE@ASEcho.org