If you would like to recognize a fellow ASE member as a GEM for Going the Extra Mile, p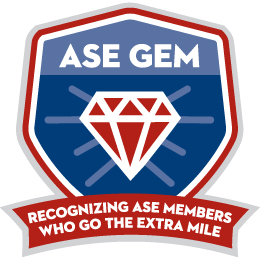 lease visit this web page for instructions on how to submit your recognition.
Below is the list of ASE members have been recognized as GEMs by their colleagues.
July 2020 GEM
Luigi Badano recognized by David Maisuradze
Dr. Badano has been a great research investigator in echocardiography. He is a fabulous cardiologist, mentor, and teacher.
May 2020 GEM
Harry Rakowski recognized by Robin Wiegerink
Dr. Rakowski led a fundraising campaign that raised $310,000. This money was used to feed 500 healthcare workers a day for 3 weeks in April and into May and $50,000 is being saved for facials for front line workers to help with mask burn. This effort is a true sign of gratitude toward healthcare workers on the front-lines of treating COVID-19.
April 2020 GEMs
Mary Davis recognized by Melia Bowen
Mary not only takes care of her echo team, but also sonographers all around the US! She has sewn masks for sonographers and even mailed them to outside echo labs! She has a heart of gold, compassionate patient care and is a brilliant sonographer and lead.
Vincent Sorrell recognized by Bryana Levitan
Dr. Sorrell is a fabulous cardiologist, mentor, and teacher. @VLSorrellImages has a world wide following where physicians and sonographers alike post images/cases, ask questions, and seek imaging advice.
March 2020 GEMs
Nelson B. Schiller recognized by Harry Acquatella
Dr. Schiller has been a prolific research investigator in cardiac echocardiography. He has made very important contributions in cardiac function and anatomy, which made routine exams precise and very useful for diagnosis. His publications are numerous.
Michelle Bay recognized by Vincent Sorrell 
Michelle is a rising star. As a new Operations Manager (25,000+ echos) she has trained 2 new RDCS's & RNs, created a new program for in-lab TEE / DCCV, initiated a DYAD QI program, and is now busy with re-accreditation process for 2020. A real GEM!!!
Piers Barker recognized by Gregory Tatum
Dr. Barker has been the consummate ASE member as a master clinician, incredible teacher, and outstanding research. He has volunteered tirelessly for ASE. But most importantly he has converted numerous potential members into active ones.
January 2020 GEMs
Bonita Anderson recognized by Karen Zimmerman
Bonita gives one million percent to the ASE. She is nonstop in promoting this organization and its journals as clearly demonstrated by her latest contributions in Echo Hawaii. Her high-quality presentations teach all levels in the field like no other.
Brenda Baird recognized by Jon Bergset
Brenda regularly goes above and beyond job to provide exceptional patient care and training of co-sonographers and sonographer students. She is retiring this year after 22 years in the lab.
Ana Tofan recognized by Bradley Murphy 
Ana is an individual who makes a habit of dedicating her time and energy to promoting advancements in ultrasound and educating her peers/cardiology fellows. She is a very driven individual.
Marilyn Riley recognized by Warren Manning
For over 4 decades, Marilyn was our sonographer leader – transitioning to our lead sonographer educator 2 years ago where she continues to focus on the education of our sonographer students, cardiology fellows, and rotating ICU/ED fellows. She is a star!
Bryana Levitan recognized by Vincent Sorrell
Bryana loves to scan; insists on top-notch quality; is expert in congenital heart disease; teaches the students, fellows, and peers; scans small mice and monkeys and has improved our basic science lab capabilities. She is a sonographer star!
December 2019 GEMs
Sarika Anand recognized by David Friedman
Sarika has been an echo and vascular technician for about 7 years and has been working with our group of 3 cardiologists. She is conscientious and engaged in high quality patient care, communicates well, and takes on echo lab performance improvement well.
Heidi Borchers recognized by Colleen Cailes
"Heidi (otherwise known as Yoda at work) really goes the extra mile to make her families and patients comfortable. She shares her vast knowledge about congenital heart disease with her team members, fellows and cardiologists."
November 2019 GEM
Jackie Luther recognized by Michelle Cordio
"Jackie always goes the extra mile to educate future sonographers. She was one of the first to do echocardiography here. She has been educating clinically and didactically for over 40 years. Her students have 100% pass rate on the adult echo board exam."
October 2019 GEMs
Alicia Amour recognized by Madhav Swaminathan
"Alicia is a phenomenal sonographer. On a recent visit by ASE staff to our Peds echo lab, she gave a fantastic presentation to the lab about how to participate in ASE activities and become good members. A volunteer effort and a superb initiative. Thanks!"
Amanda Geilfuss recognized by Kelly Kasir
"Amanda is a dedicated cardiac sonographer that promotes quality and an educational experiences in our lab. She is an excellent mentor to our students and a resource person to the other sonographers. I am so happy that I have Amanda on my team :-)"
Christal Wilson recognized by Allyson Boyle
"She has grown so much in this field. She keeps up with new guidelines, is very efficient, and a great mentor to her peers."
If you have questions, please email: ASE@ASEcho.org