If you would like to recognize a fellow ASE member as a GEM for Going the Extra Mile, p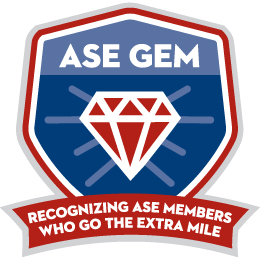 lease visit this web page for instructions on how to submit your recognition.
Below is the list of ASE members that have been recognized as GEMs by their colleagues.
If you have questions, please email ASE@ASEcho.org
July 2022 GEM
Ian Crandall, BS, MS, RCS, FASE recognized by Shannon McCabe
Ian has been an excellent mentor to both younger and more experienced sonographers throughout the Yale New Haven Health system. His enthusiasm for advancement has been an inspiration to us all to better the health system and improve care of our patients.
March 2022 GEM
Gregory Tatum, MD, FASE recognized by Piers Barker 
From the PCHD Council, in recognition of exceptional service to its members and the entire ASE community, for Dr. Tatum's exemplary dedication in leading an outstanding webinar series. Our patients, families and echo labs all benefit from his work.
Read about past ASE GEMs