If you would like to recognize a fellow ASE member as a GEM for Going the Extra Mile, p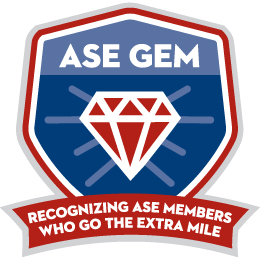 lease visit this web page for instructions on how to submit your recognition.
Below is the list of ASE members that have been recognized as GEMs by their colleagues.
If you have questions, please email ASE@ASEcho.org
January 2023 GEMs
R. Brandon Stacey, MD, FASE recognized by Mahesh Chandrasekhar, MD
Most clinician-research are able to practice and perform research, but Dr. Stacey goes the extra mile. He is able to mentor other in cardiac imaging research. He is truly a great mentor and cardiologist.
Jennifer Mercandetti, BS, RDCS (AE, PE), ACS, FASE recognized by Jose Banchs, MD, FASE
Jennifer has constantly advocated for quality imaging and is a true workflow magician. Since 2020 she has been overseeing 23+ sonographers and helps coordinate all services (TEE, stress, TTE: pediatric, congenital, adult, research studies) across the institution. She has flawlessly managed a busy lab where over >100 studies are performed daily, plus full-day weekends, an actual 24/7 operation. I admire her dedication and am proud to announce she has been promoted to the AMC Manager for non-invasive cardiovascular services.
Jordan Strom, MD, FASE recognized by Warren Manning, MD
Unwavering commitment to clinical excellence and research advancement of the lab.
Sandra Castilho recognized by Jose Augusto de Almeida Barbosa
Best colleague and excellent pediatric cardiology working with me more than 20 years.
Jennifer Betz, BS, RDCS, FASE recognized by Jennifer Warmsbecker, RDCS, BS, FASE
Jenny always gives 110% to her the care of her patients and her job. She is a dedicated member of ASE and participates in committee, conferences and fundraising. She activity promotes ASE to peers and helps sonographers become FASE.
I B Rangga Wibhuti, MD, FIHA, FASE recognized by Vianney Tedjamulia, MD, FIHA
Very dedicated echo lecturer from Bali. He teach the cardiology resident that echo is beyond just LV study. He took the extra mile by studying overseas, took FASE & other echo related fellowship despite echo is extremely under-appreciated.
December 2022 GEM
Brenda Arbuckle, RDCS, FASE recognized by Cynthia Taub, MD, FASE
Brenda has been in the field of Echocardiography since 1985. She has gone that extra mile every day during her 37 years of an illustrious career in a rural academic center. She inspires the new generation of sonographers and sets high standards. She is a fierce advocate for her patients and her colleagues. She is the first to roll up her sleeves to assist interventional procedures when needed, and the first to give up her vacation time to fill in staffing gaps. Her work ethic is unparallel. The GEM recognition of Brenda Arbuckle is overdue!
September 2022 GEM
Miranda Sturgeon, RCS, RCCS, FASE recognized by Alexandra Gardner, BS, ACS, RDCS, FASE
For the past four years, Miranda has spearheaded a pediatric cardiac screening partnering with a children's hospital in the area. This program has saved the lives of countless children. Miranda is an inspiration for all that meet or work with her.
August 2022 GEM
Bryana Levitan, BA, RDCS, FASE recognized by Vincent Sorrell, MD, FASE
Bryana is an expert adult, pediatric, congenital & small animal echocardiographer. Teaches students, fellows, & peers. Runs our Core Lab. Today – she passed the Advanced Cardiac Sonographer exam. This is further testimony to her incredible skills & GEM.
July 2022 GEM
Ian Crandall, BS, MS, RCS, FASE recognized by Shannon McCabe
Ian has been an excellent mentor to both younger and more experienced sonographers throughout the Yale New Haven Health system. His enthusiasm for advancement has been an inspiration to us all to better the health system and improve care of our patients.
March 2022 GEM
Gregory Tatum, MD, FASE recognized by Piers Barker 
From the PCHD Council, in recognition of exceptional service to its members and the entire ASE community, for Dr. Tatum's exemplary dedication in leading an outstanding webinar series. Our patients, families and echo labs all benefit from his work.
Read about past ASE GEMs