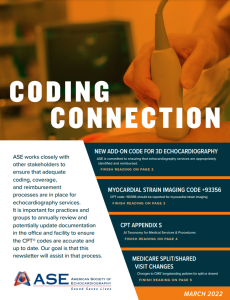 ASE is committed to providing our members with the tools and resources needed to ensure they are coding accurately, maintaining compliance with all requirements, and maximizing appropriate reimbursements.
The 2022 Coding Connection is now available and free to members. This resource will assist you in coding accurately for the services you provide, especially in today's environment of declining reimbursement and increased scrutiny. This document includes important information on the new add-on code for 3D echocardiography, the myocardial strain imaging code +93356, CPT Appendix S, Medicare split/shared visit changes, and more.
ASE also retains a coding expert who can answer your specific questions. You may link to this service on-demand, directly through the ASE member portal. Log in to your Member Portal and click "Ask a Coding Expert" to get an answer from the experts!