ASE is pleased to offer the opportunity for registrants attending ASE Live Courses in 2023 the option to purchase products in advance to pick up at the course to avoid having to pay for shipping. Please review these webpages and make your selections today. View the ASE 2023 Product Price Sheet to see all the discounted product prices. 
Placing a pre-order is easy!
Email Products@ASEcho.org.
In the email subject line, write: "Course Name" 2023 Product Pre-Order.
Then, simply list the product name(s) and the quantity you are interested in purchasing in the body of the email. 
Donald Bennett, ASE's Education Product Specialist, will send you an invoice for easy online payment of your order.
ASE's Comprehensive Echocardiography Textbook 3rd Edition
Pricing: $229.99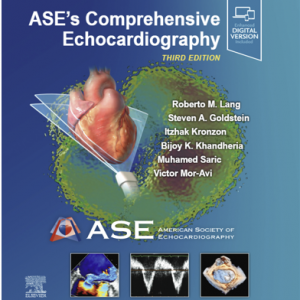 ASE'S Comprehensive Echocardiography 3rd Edition covers the full spectrum of sonography of the heart – from basic foundations and principles to all clinical aspects – in one authoritative, definitive clinical resource. Echocardiography is widely used in hospitals and clinics and across all age groups to assess cardiac function for the diagnosis and management of cardiovascular disease.  Echocardiography is non-invasive imaging of the heart that is used extensively to assess heart size, congenital heart defects, heart muscle performance, valve problems, structural problems, blood clots, tumors, stroke, or to gauge responses to treatment. This comprehensive resource covers all the latest in echocardiography, including the most recent 2D, 3D guidelines, and other technologic advances.  Unlike other existing titles on echocardiography, ASE's Comprehensive Echocardiography covers a full range of topics in almost 200 individual chapters written and edited by ASE members with specific expertise in each topic.  Topics are covered in a succinct format and illustrated extensively with over 1,200 images, tables and 580 online videos.
ASE's Comprehensive Strain Imaging Textbook
Pricing: $179.99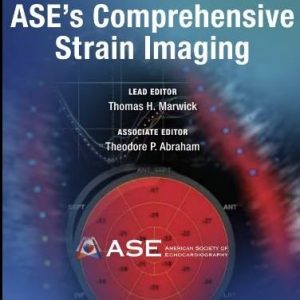 Written by international ASE experts, this textbook will be your go-to guide for everything related to strain technique and application. You will receive the hardbound book as well as online access to easily browse, search, and download content. Features Include:
Wide range of strain imaging/speckle tracking echocardiography applications, including screening, diagnosis, treatment, and follow-up
Includes over 150 images using the latest strain imaging technology
Step-by-step techniques on how to use strain imaging with expert tips on nuances and pitfalls
Screening and follow-up of patients who receive cardio-toxic oncologic agents during cancer treatmentEvaluation of patients with cardiomyopathy, heart failure, arterial disease, valve disease, implantable pacemakers, pericardial disease, hypertrophy, ischemic disease, and chest radiation Future applications, including elastography
Advanced Cardiac Sonographer Registry Review Guide [3rd Edition]
Pricing: $179.10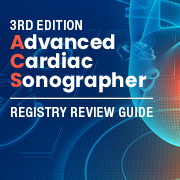 Designed by accomplished expert sonographers and ACS imaging specialists, this comprehensive review of basic and advanced echocardiography has been created as a review guide and teaching tool for sonographers preparing to sit for the Advanced Cardiac Sonographer Registry Exam.
This video set includes 55 modules on IAC standards and guidelines for adult echocardiography accreditation, providing the perfect resource to help you prepare your exam.
Topics range from quality assurance to an in-depth review of cardiogenic shock and emergency echo, stress echo, congenital disease, chemotherapy echocardiography, left and right heart function, prosthetic valves, research methods and biostatistics, and interventional echocardiography including the latest technological advances.
Each lecture has been carefully designed to include a thorough review and clinical application through real video case study presentations.
Purchase this course in conjunction with the Advanced Cardiac Sonographer Registry Practice Questions Workbook for a discount on the workbook.
Advanced Cardiac Sonographer Registry Practice Questions Workbook
Pricing: $125.00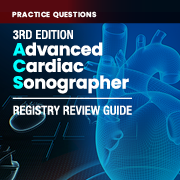 These unique 6″ x 8″ spiral bound formula pockets guides are a must have for all practicing echocardiographers, cardiology fellows, and sonographers. The illustrative color cards detail the clinical applications of strain and ultrasound enhancing agents, stress echocardiography equations, pericardial formulas, and 3D echocardiography acquisition. If you are looking to become more quantitative in your reports or studying for boards, this formula handbook will be useful on a daily basis.
Please note: Product prices on this page are only available to registered attendees at ASE Live Courses in 2023.