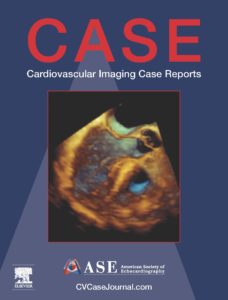 You asked for a case reports journal for cardiovascular imaging, and we listened. CASE, an online, open-access, case reports journal was launched this week. ASE leadership recognized the importance of producing a journal to meet the needs of the medical community by providing timely, practical information on the challenges that face clinicians daily in delivering optimum patient care through efficient and effective diagnostic testing.
Submissions are now being accepted, with the first issue planned for early 2017. The fees associated with accepted papers are $550 for ASE members which is deeply discounted from the $800 fee for nonmembers. The CASE Guide for Authors can be found here.
ASE is proud to have assembled an international editorial board of experts in a wide range of cardiovascular care areas, led by co-Editors-in-Chief L. Leonardo Rodriguez, MD, FACC, FASE from the Heart and Vascular Institute at the Cleveland Clinic in Cleveland, Ohio and Karen G. Zimmerman, BS, ACS, RDCS, RVT, FASE from the Webber Heart Center, Munson Healthcare, Grand Traverse Region in Michigan.
Please send any questions to CASE Managing Editor Deborah R. Meyer at dmeyer@asecho.org.