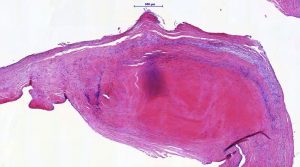 The latest issue of CASE, ASE's online case reports journal, is available, and includes "A Happy Patient Sheltering an Unhappy Valve: Serotonin Reuptake Inhibitor-Induced Tricuspid Valve Regurgitation," by Loran Defruyt, MD, Jens Czapla, MD, Jo Van Dorpe, MD, PhD, Eline Ameloot, MD, Gilbert Lemmens, MD, PhD,Frank Timmermans, MD, PhD, and Tine De Backer, MD, PhD. Dr. De Backer shares two points for readers to consider regarding this topic. "If no clear reason for valvular disease, consider the possibility of drug-induced valvular heart disease. Also, in patients on long-term therapy with serotonin-related drugs, a cardiac ultrasound examination may be considered to screen for valvular heart disease."
Additional cases explore left atrial appendage, vegetations, echinococcosis, interventricular septum (in human and canine patients), COVID-19, primary cardiac sarcoma, Takayasu arteritis, effusive-constrictive pericarditis, percutaneous valve solutions, and congenital preoperative planning.
This issue of CASE includes a thank you note to all of the incredible reviewers who spent time in 2020 sharing their expertise and time with CASE. See the list of these generous echo enthusiasts and consider joining their ranks by volunteering to become a CASE reviewer in 2021.
Submit an image and text to compete for the next What is this Image? quiz, a feature on the CASE homepage. The winner gets their choice of an ASE guideline poster. Email it to CASE managing editor, Debbie Meyer.