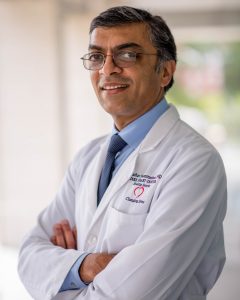 Madhav Swaminathan, MD, MBBS, MMCi, FASE, Vice Chair for Faculty Development, Duke Anesthesiology, and Professor of Anesthesiology, Duke University School of Medicine, has taken the helm as president of the ASE. His presidency, which will last one year, marks the first time that an anesthesiologist has been elected to head ASE in its 44-year history.
Dr. Swaminathan addressed the members of the Society at their annual business meeting and shared his excitement for leading ASE for the next year. He said, "ASE has taken an unprecedented step of tapping the first anesthesiologist as its president. It is a bold statement about celebrating diversity. I look forward to leading the Society that has opened its arms to everyone who is interested in cardiovascular ultrasound. In addition to guiding ASE into a new strategic plan beginning in 2020, I am committed to building a network of leaders that supports the well-being of the entire cardiovascular ultrasound community."
Dr. Swaminathan served as ASE's Vice President and President-Elect prior to ascending to President. Joining him as new members of the 2019-2020 Executive Committee are Vice President, Raymond Stainback, MD, FASE, Texas Heart Institute, Baylor St. Luke's Medical Center, Houston, TX; and Secretary, Matt Umland, ACS, RDCS, FASE, Aurora Healthcare, Aurora, WI. Read more about the continuing ASE officers and the new board of directors members here.