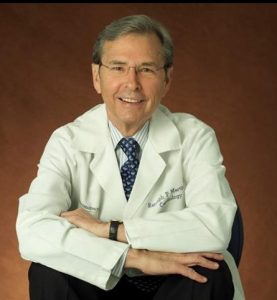 Randolph P. Martin, MD, FASE, FACC, FESC
Emeritus Professor of Medicine (Cardiology), Emory University School of Medicine
Dr. Martin is one of the pioneers in the field of Noninvasive Cardiology, using ultrasound – echocardiography – to diagnose cardiovascular conditions. He attended Emory University School of Medicine, graduating summa cum laude in 1969, and went on to hold faculty positions and clinical staff positions at Stanford University, the University of Virginia, the Mayo Medical School and Mayo Clinic, and Emory University, where he served as Professor of Medicine and Director of Noninvasive Cardiology for 20 years. He has over 195 publications, and served as President of ASE from 2003-2004.
Dr. Martin has lectured extensively throughout the world, and for 21 years served as the Host/Moderator of the world's largest professional medical satellite tele-education program, "Echo in Context." He also served for 15 years as the sole Medical Correspondent for Cox Communications' affiliate – WSB-TV, Channel-2, in Atlanta.  Dr. Martin was awarded multiple broadcast awards, including three Emmy nominations, and also won the American Heart Association's Howard L. Lewis Lifetime Achievement Award for Health Reporting – becoming the first physician television journalist to do so.
Dr. Martin has long had a keen interest in consumer education.  Beginning in 1994, he was the director of Emory's nationally-recognized Mini-Medical School – a nearly year-long course for consumers to emulate medical school experience.  Over 7000 citizens of Atlanta graduated from Dr. Martin's Mini-Medical School.  In partnership with Piedmont Healthcare, Dr. Martin launched HealthWatchMD.com in 2011, expanding his audience and disseminating up-to-the-minute health news to the Atlanta Community and beyond.