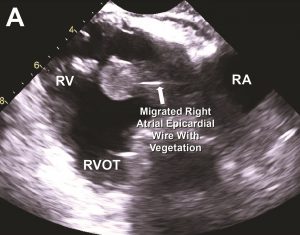 The latest issue of CASE, ASE's open access case reports journal, is available and includes, "Percutaneous Removal of Epicardial Pacing Wire: Nidus for Infective Endocarditis" by Thomas Wilson, MD, et al. Vincent L. Sorrell, MD, FASE, CASE Editor-in-Chief, commented, "This CASE outlines an absolutely fascinating approach to an incredibly rare presentation of a really common problem (endocarditis), which in this CASE was due to the migration of an epicardial pacing wire temporarily placed after cardiac surgery. The authors were able to retrieve the retained wire without open sternotomy through a carefully guided echo, CT, and fluoroscopic approach – reminding us that any interruption to a normal endocardium (even a temporary pacing wire) may be the predisposing nidus for endocarditis, and emphasizing the importance of a comprehensive, vigilant echo study."
Additionally, this issue includes two more cases highlighting the complementary role of multimodal imaging, some intriguing "rare but deadly" cases, two timely congenital heart disease cases, and two veterinary cases that illuminate how similar problems can affect different species. The editorial from Dr. Sorrell, "Beatles, Blue-Footed Boobies, and Bygone Echo Labs," incorporates his recent trip to Darwin's "living laboratory" to highlight the ways in which echocardiography has evolved and whether the future may hold a "revolution" in diagnostic cardiac imaging.
Visit the CASE Homepage to see the latest Unlock the CASE image quiz, submitted by Po Fun Chan, MBBS, MRCP, William Kristanto, MBBS, Kua Jieli, MBBS, MRCP, Jimmy Ong, MBBS, MRCP, Yoke Leng Koh, ARDMS, and Rosyawan Venny, from Ng Teng Fong General Hospital and National University Heart Centre in Singapore, to challenge your imaging and diagnosis skills.