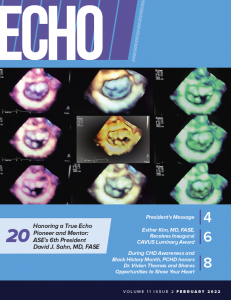 The 2022 February ECHO magazine has been released online! This issue contains articles written by ASE members including the PCHD Council raising awareness during Black History Month and Heart Month, the COPE Council on the Ross Procedure, the CAVUS Council honoring Esther Kim, MD, FASE, with the first CAVUS Luminary Award, memorial tributes to ASE's 6th President David J. Sahn, MD, FASE, and Xinfang Wang, MD, FASE, and more.
The ECHO magazine is now a monthly online publication. It includes communications from the ASE President, ASE Councils, and Specialty Interest groups (items that were previously found in the "blue pages" of JASE), and the education calendar.
This magazine is also an outlet for all ASE members to contribute interesting articles or images related to cardiovascular ultrasound. Learn more and view all the past issues at ASEcho.org/EchoMagazine.