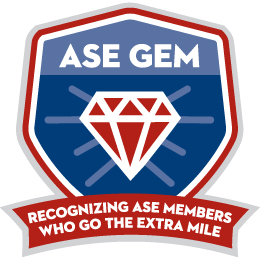 Everyone likes to feel appreciated.
Everyone likes to feel valued.
Everyone likes to feel connected to a supportive community.
Active members of ASE are encouraged to recognize their healthcare colleagues as a GEM for Going the Extra Mile (GEM). Whether it's for their dedication to the field of cardiovascular ultrasound, being an outstanding mentor to students or fellows, their commitment to quality patient care, going above and beyond in the past month, a milestone service anniversary, or congratulating them on a major accomplishment. No matter what reason, it is always worth recognizing your peers.
It's simple to recognize your colleagues:
Log in to your Member Portal.
Click on the Membership tab at the top.
Click on GEM Recognition (Members Only).
Fill out the form.
The deadline for submission is the 25th of each month to allow for time for recognition the following month.
After your submission, the person you recognize as an ASE GEM will receive an email from the ASE President within two business days recognizing their GEM status. ASE GEMs will also be recognized on this web page, on social media, and monthly in the ASE Echo News weekly eNewsletter.
If you have questions, please email: ASE@ASEcho.org