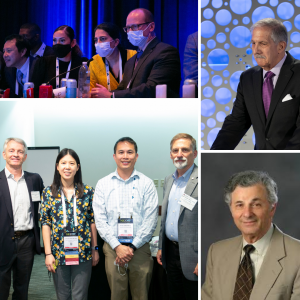 ASE 2022 wrapped up over two weeks ago, but we are still thinking of the great education and networking that occurred in Seattle, WA.
Weren't able to attend in person? Here are a few highlights you might have missed:
Alan Pearlman, MD, FASE, on behalf of Harvey Feigenbaum, MD, FASE, delivered the 23rd Annual Feigenbaum Lecture titled "History of Echocardiography: A Personal Perspective." Watch here. Dr. Pearlman gave tribute to Dr. Feigenbaum's vast influence on echocardiography. During Dr. Feigenbaum's career, he has received awards from numerous professional organizations. He is a Past President of ASE and the founding editor of the Journal of the American Society of Echocardiography. He has trained and mentored numerous echocardiographers and cardiac sonographers during his career, written textbooks with multiple editions, and conducted research that has contributed to advancement and innovation in the field.
Jennifer Acevedo, ACS, RDCS, FASE, Aarti Bhat, MD, FASE, and John Kovalchin, MD, FASE, took home the coveted Pediatric Echo Jeopardy title.
ASE hosted a Hackathon with the Institute of Electrical and Electronics Engineers Ultrasonics, Ferroelectrics, and Frequency Control Society (IEEE UFFC-S) on June 14, 2022. This innovative event brought together engineering experts and healthcare professionals to work together toward developing new ways of advancing ultrasound technology to support continuous monitoring of patients in critical care. The winner was Team MUSIC (mini ultrasound in critical care), Tiffany Chen, MD, FASE, Yashwanth Nanda Kumar, and Jesse Tong-Pin Yen, PhD.