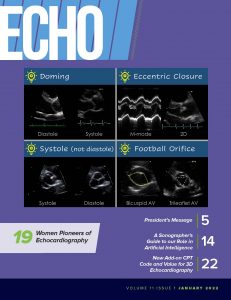 The 2022 January Echo magazine has been released online! This ASE news vehicle covers more in-depth subjects than can be covered in this e-news. This issue contains articles written by ASE members including "Introducing the ASE Council on Pediatric and Congenital Heart Disease," "A Sonographer's Guide to our Role in Artificial Intelligence," "Women Pioneers in Echocardiography," "New Add-on CPT Code and Value for Three-Dimensional Echocardiography," "Reality of Virtual Learning," and more.
The ECHO magazine, which has been published once or twice a year since 2012, is now a monthly online publication. It includes communications from the ASE President, ASE Councils, and Specialty Interest groups (items that were previously found in the "blue pages" of JASE), an education calendar, and more.
This magazine is also an outlet for all ASE members to contribute interesting articles or images related to cardiovascular ultrasound. Learn more and view all the past issues at ASEcho.org/EchoMagazine.