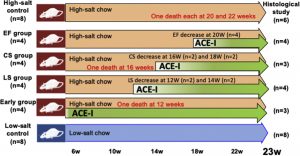 The February JASE contains a pre-clinical investigation, "Left Ventricular Longitudinal Strain as a Marker for Point of No Return in Hypertensive Heart Failure Treatment," written by Tomoko Ishizu, MD, PhD, Yoshihiro Seo, MD, PhD, Mikiko Namekawa, MSc, Nobuyuki Murakoshi, MD, PhD, Masaki Ieda, MD, PhD, and Yasushi Kawakami, MD, PhD. Dr. Seo shares with JASE readers that, "We investigated when is the "point of no return" (PNR) or point when response to ACE-inhibitor therapy is less effective in the hypertensive heart failure model in the rat. We revealed that the combination of longitudinal and circumferential strain could identify the PNR and the period just before the PNR." Another pre-clinical article explores how therapeutic ultrasound improves myocardial blood flow and reduces infarct size in a canine model of coronary microthromboembolism.
Clinical investigations in the issue feature echocardiography in heart failure, implications of diastolic function assessed by echocardiography, intraoperative echocardiography, improving the measurement of the tricuspid valve annulus, detection of patent foramen ovale, and echocardiography in children. Brief research communications and a letter to the editor cover cardiac remodeling in middle-aged endurance athletes and recreationally active individuals, variability in echo ascending aortic diameters due to image acquisition by different sonographers, 2D speckle-tracking echo of the left ventricle rotational mechanics during postnatal adaptation in healthy newborns, and system-wide echo accreditation from the physician perspective.
The President's Message by Madhav Swaminathan, MD, MMCi, FASE, explores ASE's essential collaboration between its human and veterinary medical professionals. Marjan Miri, BS, RDCS, writes in the Sonographers' Communication about ASE's Rising Stars, and Kimberly Howard-Quijano, MD, MS, author of this month's COPE communication, looks at the perioperative use of strain echocardiography.