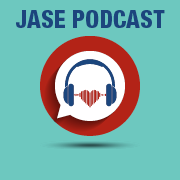 Do not miss a special crossover episode between the Canadian Society of Echocardiography (CSE) live journal club and the JASE Podcast.
In this episode, Sarah Blissett, MD, and Sabe De, MD, FASE, join Amer Johri, MD, FASE, to discuss the paper, "Normal Values of Cardiac Output and Stroke Volume According to Measurement Technique, Age, Sex, and Ethnicity: Results of the World Alliance of Societies of Echocardiography Study" by Patel et al., with a special introduction from JASE Editor-in-Chief, Michael Picard, MD. FASE. Learn more about the nuances of assessment of cardiac output and stroke volume based on patient demographics and measurement techniques in this newest edition of the JASE podcast.
If you missed any of the podcasts from the 2021 Summer Series, you can listen to all of the episodes here.