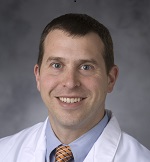 During the month of March, Gregory Tatum, MD, FASE, was recognized for Going the Extra Mile and received a GEM award!
His nominator, Piers Barker, MD, FASE, on behalf of ASE's Pediatric and Congenital Heart Council, said, "From the PCHD Council, in recognition of exceptional service to its members and the entire ASE community, Dr. Tatum is being honored for his exemplary dedication in leading an outstanding webinar series. Our patients, families, and echo labs all benefit from his work."
Do you know an ASE member who's gone the extra mile? Join us in celebrating ASE members who are making the world a better place, be it for their dedication to the field of cardiovascular ultrasound, being an outstanding mentor to students or fellows, their commitment to quality patient care, a milestone service anniversary, or congratulating them on a major accomplishment. Learn how to nominate someone here.