This year ASE is participating in the ESC Congress 2019, August 31 – September 4 in Paris, France. ASE will be booth number I01 in the ESC Plaza Hall 4.
We are offering ASE members who attend this meeting special opportunity to purchase ASE products at a discounted price for pick-up at the ESC meeting.  If you are planning to attend the ESC Congress 2019 and would like to pre-order ASE products, see the products available below.
To place an order, please download this order form. Mark the products you would like to purchase and email the form to Alyssa Lawrentz at ALawrentz@ASEcho.org by Friday, July 26, 2019. She will then email you an invoice to pay for the products online. Alyssa Lawrentz, Education and Products Manager, will have your pre-ordered products at ASE stand for you to pick up in person. If you are not attending ESC and would like to have someone else pick up your products, please include their name on the order form.
We hope you will take advantage of this opportunity to purchase some of ASE's most popular products at a discount for easy delivery. Even if you do not order products, please visit the ASE booth! We value your membership.
DVDs
Guideline Posters
Pocket Guidelines
Textbooks
Free Product – Basics of Bubbles

DVDs
Best of ASE: Contrast Echocardiography

Enhance your understanding of contrast echocardiography with this compilation of lectures from ASE courses. $75.00 $60.00 USD
Best of ASE: Echo Imaging of Native and Prosthetic Valves
Enhance your understanding of native and prosthetic valves with this compilation of lectures from ASE courses. $75.00 $60.00 USD
Transesophageal Echocardiography in Structural Heart Disease
This case-based learning tool caters to this growing educational need of cardiologists, cardiac anesthesiologists, fellows, sonographers, and other individuals involved in procedural image guidance with transesophageal echocardiography (TEE). This product not only illustrates the utility of real-time two- and three-dimensional TEE in interventional echocardiography, but also demonstrates the procedure-specific imaging needs in SHD. $250.00 $140.00 USD
Utility of 3D Echocardiography: Promises and Perspectives DVD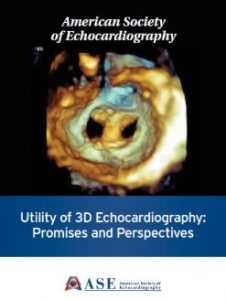 Experts in 3D echocardiography address essential topics in a case-based approach with multiple examples. The product begins with history of the technology and moves to the basics of image acquisition and display. Subsequent lectures focus on chamber quantification and valvular heart disease. The use of 3D echocardiography to guide
transcatheter interventions is also examined in depth. Finally, a vision for the future of 3D echocardiography, including virtual reality, fusion imaging, and holographic display is presented.  $250.00 $140.00 USD
Assessing Left Ventricular Diastolic Function DVD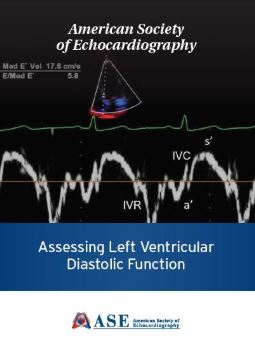 Echocardiography plays an important role in the assessment of diastolic function in patients with known or suspected heart failure and patients presenting with dyspnea. Assessing Left Ventricular Diastolic Function is comprised of case-based lectures followed by case studies. The dedicated lectures include questions on the echo parameters used to assess diastolic function and the physiology of diastology. This educational tool also describes how to utilize the ASE and EACVI 2016 guideline on diastology to classify and grade diastolic function, estimate left atrial filling pressure in patients, and evaluate patients with indeterminate diastolic function. You will also learn about the differential diagnosis of patients presenting with dyspnea such as restrictive cardiomyopathy and constrictive pericarditis, as well as the physiology of diastolic function, and the pitfalls in the assessment of diastology.  $250.00 $140.00 USD
Essentials for Proficiency in Basic Cardiovascular Ultrasound DVD & Workbook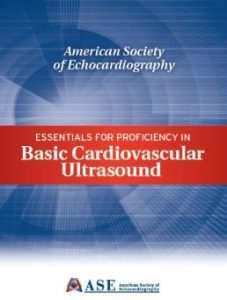 Designed by top physicians and professors of cardiovascular medicine, this comprehensive review of basic echocardiography has been created as a teaching tool for echocardiography fellows and others interested in learning about the use of cardiovascular ultrasound in clinical practice. This set includes 15 lectures on a variety of topics, beginning with the normal TTE and TEE examinations, and then covering the mitral and aortic valves in-depth, left and right heart function, physics, prosthetic valves, and more. Each lecture has been carefully crafted to include a thorough review of practical concepts, references to ASE's Guidelines and Standards, video examples of normal and abnormal echocardiograms, and case studies designed to provide real-word examples. A workbook correlates with the lectures to provide a guide for each presentation. $250.00 $140.00 USD

New 2019 Guideline Products
Alternative Views for the TTE Protocol (JASE, January 2019)
– 24 x 30″ Poster:
– 3 x 5″ Pocket Guide: 

$25.00

$12.00 USD

Spectral Doppler Images for the TTE Protocol (JASE, January 2019)
– 24 x 30″ Poster:
– 3 x 5″ Pocket Guide:

$25.00

$12.00 USD

Comprehensive TTE Scanning Maneuvers & Protocol (JASE, January 2019)
– 24 x 30″ Poster Set (2): 

$60.00

$32.00 USD


– 3 x 5″ Pocket Guide Set (2): 

$50.00

$24.00 USD

Residual Valvular Regurgitation after Percutaneous Valve Repair or Replacement (JASE, April 2019)
– 24 x 30″ Poster:
– 3 x 4″ Pocket Guide: 

$15.00

$8.00 USD
All Individual Posters: $30.00 $16.00 USD
Echocardiography Formula Review Guide: Native Valves and Intracardiac Pressures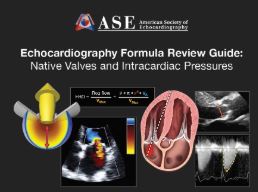 This unique, spiral-bound, 6×8" formula pocket guide is a must-have reference for every practicing echocardiographer, cardiology fellow, and sonographer. The illustrative cards detail the echocardiographic quantitative evaluation of native valve regurgitation and stenosis, as well as how to determine intracardiac pressures. If you're looking to become more quantitative in your reports, need a refresher on quantifying native valve disease, or studying for boards, this formula handbook will be useful on a daily basis. $40.00 $16.00 USD
ASE Pocket Guidelines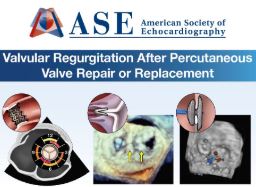 These pocket-sized flip books of charts from ASE guidelines and standards for cardiovascular ultrasound were designed to be carried in lab coats and scrub pockets and used ad quick reference guides for measurements.
LV Diastolic Function (JASE, April 2016)
Chamber Quantification of the Right Heart (JASE, January 2015
Chamber Quantification of the Left Heart (JASE, January 2015)
Prosthetic Valves with Echo and Doppler Ultrasound (JASE, September 2009)
Image Acquisition and Display Using 3D Echo (JASE, January 2012)
Aortic Regurgitation (JASE, April 2017)
Aortic Valve Stenosis (JASE, April 2017)
Mitral Regurgitation (JASE, April 2017)
Tricuspid and Pulmonic Regurgitation (JASE, April 2017)
NEW! Residual Valvular Regurgitation After Percutaneous Valve Repair or Replacement (JASE, April 2019)
Individual 3×4″ Pocket Guidelines – $15.00 $8.00 USD
Bundle of Pocket Guidelines (All 10 Pocket Guides) – $95.00 $75.00 USD

Guideline Reference Spiral
The ASE Guideline Reference Sprial offers a collection of charts and illustrations derived from ASE's guidelines for cardiovascular ultrasound. Enjoy the same collection of charts and illustrations offered in the ASE Guideline Reference Binder, but in the form of a clean, spiral-bound book. This version of the Guideline Reference Book is lighter and thinner, making it easier to travel with, but still providing a valuable tool for referencing ASE's guidelines for cardiovascular ultrasound. $175.00 $110.00 USD
ASE's Comprehensive Echocardiography Textbook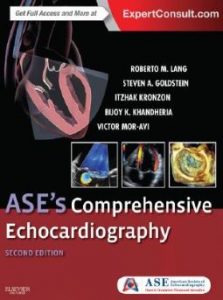 Written by world experts from ASE, Comprehensive Echocardiography is a unique multimedia resource with text, case studies, and online components covering the latest uses of echocardiography, including the most recent 2D and 3D advances. This 2nd edition, with its new title, has over 200 chapters that include essential material in a succinct format. It has everything you need to assess cardiac anatomy and function and obtain clinically useful, noninvasive information for more accurate diagnosis and evaluation of heart disease. Included with the book is an online version and an outstanding online library of slides and videos of case presentations that correspond to crisp, full-color images, allowing you to view dynamic echocardiographic clips of various cardiac pathologies. $229.00 $186.00 USD

Basics of Bubbles: What Every Clinician Should Know USB
This program was made possible by the funding of an unrestricted educational grant from GE Healthcare, Pharmaceutical Diagnostics.
Topics Include:
The Contrast Basics: Contrast Agents and the Ultrasound
Approaches to Detecting Them
The Sonographers Checklist for Successful Adoption of Contrast
in the Echo Lab
LVO at Rest – What You Don't See Can Hurt You
The Impact of Contrast for Assessment of CAD
Policies, Practice, and Training for Contrast Echocardiography
Future of Contrast: Perfusion Imaging, Molecular Imaging, Therapy
FREE