The ASCeXAM/ReASCE Online Practice Exam Simulation is designed to prepare physicians for the National Board of Echocardiography's ASCeXAM or ReASCE certification examinations. Developed by renowned experts in the field of echocardiography, the test bank consists of 300 multiple choice questions containing over four hundred images and videos covering: the physical principles of cardiovascular ultrasound; valvular heart disease; ventricular size and function, coronary artery disease, and cardiomyopathies; congenital heart disease and fetal echocardiography; as well as cardiac masses, pericardial disease, myocardial contrast and the latest applications in echocardiography. M-mode, 2-Dimensional and Doppler echocardiography are also covered. In addition to objective based questions, case studies are included to evaluate your knowledge of the field. During your eighteen week access, you will be given the opportunity to take two simulated exams consisting of one hundred fifty questions each, assessing your skills and knowledge in all areas. You may repeat these exams a total of six times. The grading and feedback for all six attempts will be saved. In addition to an overall grade, a percentage breakdown of your incorrect and correct answers over the five categories will be provided for each attempt, so that you may focus your study accordingly. Feedback includes explanations of the correct and incorrect answers, offering valuable instruction.
To introduce you to the exam format and to ensure that you are comfortable with the method of answering the exam questions, a practice quiz is provided before you begin your attempts at the full exam simulation. You may take this quiz as many times as you wish. The educational content of the quiz is just as important as what is contained in the exam simulation,
The American Society of Echocardiography strives to be the premier source for ASCeXAM/ReASCE preparation. We hope that you will take advantage of this valuable educational and study tool.
**The ASCeXAM/ReASCE Online Practice Exam Simulation currently does not offer CME.
ASE Member: $199 (18 week access)
Nonmember: $250 (18 week access)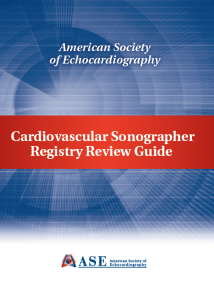 Designed by top sonographers, the Cardiovascular Sonographer Registry Review Guide, 2nd Edition provides a comprehensive guide for both the American Registry for Diagnostic Medical Sonography (ARDMS) and the Cardiovascular Credentialing International (CCI) adult cardiovascular ultrasound registry examinations. This two-piece, bundled set will provide a thorough review of adult echocardiography and physics to help you pass these examinations. The workbook correlates with each lecture providing a question and answer section for review.  The final chapter also includes one 100-question mock exam designed to test your overall knowledge and skill set in preparing you to take the registry exam with success.  All of the presentations are given by registered cardiovascular sonographers who are the best in their field and are expert educators.
ASE Member: $150
Nonmember: $250
Designed by accomplished expert sonographers and ACS imaging specialists, this comprehensive review of basic and advanced echocardiography has been created as a review guide and teaching tool for sonographers preparing to sit for the Advanced Cardiac Sonographer Registry Exam.
This video and workbook set includes 20 modules on a variety of topics. These topics include IAC standards and guidelines for adult echocardiography accreditation and quality assurance to an in-depth review of cardiogenic shock and emergency echo, stress echo, congenital disease, chemotherapy echocardiography, left and right heart function, prosthetic valves, research methods and biostatistics, and interventional echocardiography including the latest technological advances. Each lecture has been carefully designed to include a thorough review and clinical application through real video case study presentations.
A workbook correlates with each lecture providing a question and answer section for each module. The final workbook chapters includes two 180-question mock exams designed to test your overall knowledge and skillset in preparing you to take the ACS Registry Exam with success.
Echocardiography fellows, nurses, researchers, and others interested in an in-depth review of echocardiography and echo lab quality assurance best practices would also find this product valuable.
ASE Member: $150
Nonmember: $250