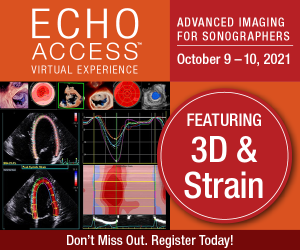 The Advanced Imaging for Sonographers: Echo Access™ Virtual Experience course, October 9 – 10, 2021, is an exciting, clinically applicable program aimed at the sonographer/practitioner directly involved in advanced echo imaging, and offers 6 CME credits.
Created by course directors Carol Mitchell, PhD, RDMS, RVT, RT(R), ACS, FASE, and Tony Forshaw, M Cardiac Ultrasound, B Ex Sci, AMS (Cardiac), FASE, the course will focus on the clinical application of 3D and strain imaging as part of the routine echocardiographic examination. Increased education in these areas is needed to ensure standardization of measurements and improved acquisition of datasets.
This virtual course will be presented in two, three-hour sessions (10:00 AM – 1:00 PM ET). Day one will focus on advanced strain imaging, and day two will focus on advanced 3D imaging. The presentation format will be approximately one-hour for each presentation (40 minutes of pre-recorded content with 20 minutes of live question and answer). A strong emphasis has been placed on practical aspects of data acquisition and analysis of raw datasets.