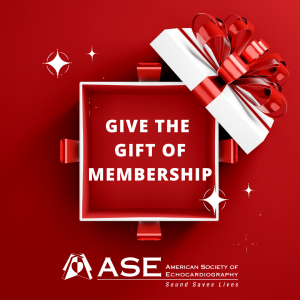 Show your friends and colleagues that you value their contribution to the cardiovascular ultrasound profession by giving them the gift of ASE membership.
Top 5 Reasons to Give ASE Membership:
5. They will receive free learning opportunities which are also CME/MOC credits.
4. They will get immediate access to the latest cardiovascular ultrasound news, guidelines, and research, including Echo Headlines four days a week!
3. They will have ample opportunities for leadership and professional development.
2. They can easily connect and network with other echo-enthusiasts from across the globe.
1. It's the gift that keeps giving, 365 days a year!
Call 919-297-7172 or email Suzanne Morris at SMorris@ASEcho.org  to purchase memberships for others! Remember if you gift five new memberships, YOU get a free membership in 2023! This is also a great way to use any leftover money you might have in your budget for 2021. We will notify the gift recipients of this special gift by email and would be happy to customize the message on your behalf.
Please contact us by December 21st to be sure your gift memberships are processed and your colleagues are notified before the holiday.