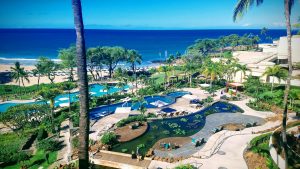 Expert U.S. and international faculty from 14 different institutions will provide top-notch, diverse education at ASE's 30th Annual Echo Hawaii™, January 20-24, 2020.
You won't want to miss:
An opportunity to interact with the faculty at the casual and lively welcome reception.
Learning state-of-the-art technologies with a focus on how they can be effectively applied in the clinical setting.
Case-based approaches on new and established uses of echocardiography for diagnosis and guiding management in patients with a broad array of cardiovascular conditions.
Focused workshops on advanced topics that cover Echo Quantitation, Contrast including Myocardial Perfusion, 3D Visualization, and Strain Techniques and Analysis.
A beautiful sunset reception where you can view poster presentations sharing the latest in research.
Download the Advance Program to see the faculty list and preliminary agenda.
The course is being held on the beautiful Kohala Coast at the Westin Hapuna Beach Resort. This location on the Big Island has an average high temperature in January of 81 degrees Fahrenheit which is a full 10 degrees warmer than most other Hawaiian Islands at this time of year. If you are looking for an island with little to no rain, the Kohala Coast only receives nine inches of rain a year. This all but guarantees sun-filled days and beautiful sunsets during the entire course.
Calling all investigators! Submit your basic or clinical research for a chance to present at Echo Hawaii. Submissions are free, and authors chosen to present receive $100 off their conference registration. Selected authors are also entered into a poster competition and have the chance at further prizes and recognition. Visit the website to review all the details for 2020's Call for Science on the Big Island. Submission closes Friday, November 1, at 11:59 pm EST – don't miss out!