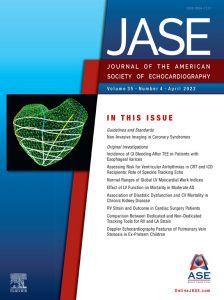 The April JASE includes, "Burden of Ventricular Arrhythmias in Cardiac Resynchronization Therapy Defibrillation and Implantable Cardioverter-Defibrillator Recipients with Recovered Left Ventricular Ejection Fraction: The Additive Role of Speckle-Tracking Echocardiography," by Erberto Carluccio, MD, et al. Dr. Carluccio said, "Predicting the occurrence of life-threatening ventricular arrhythmias in patients with heart failure with reduced ejection fraction remains a challenge. LVEF<35% currently represents the guideline-recommended parameter to select candidates for ICD therapy but it has a low sensitivity in predicting sudden cardiac death. In this study we showed that among CRT-D and ICD candidates, the risk for ventricular arrhythmias requiring appropriate shock progressively decreased with improvement in ejection fraction. However, in patients whose follow-up EF improved to >35%, the risk for ventricular arrhythmias, although markedly decreased, remained high in the presence of persistently high values of mechanical dispersion (the SD of time–to–peak strain curves in apical longitudinal views)." This clinical investigation is complemented by an editorial from Gilson C. Fernandes, MD, and Jagmeet P. Singh, MD. Other clinical investigations in this issue explore normal values for global left ventricular myocardial work, adverse outcomes in moderate aortic stenosis, gastrointestinal bleeding risk after transesophageal echocardiography in patients with esophageal varices, echocardiographic parameters associated with cardiovascular mortality in chronic kidney disease, studies of right ventricular and left atrial strain, Doppler echocardiographic features of pulmonary vein stenosis in ex-preterm children, and sex-, age-, and race-related normal values of right ventricular diastolic function parameters from the World Alliance Societies of Echocardiography.
A new guideline written in collaboration with several societies, "Non-invasive Imaging in Coronary Syndromes: Recommendations of The European Association of Cardiovascular Imaging and the American Society of Echocardiography in Collaboration with the American Society of Nuclear Cardiology, Society of Cardiovascular Computed Tomography, and Society for Cardiovascular Magnetic Resonance," is the April CME article.
A correction is also published in this issue for "Recommended Standards for the Performance of Transesophageal Echocardiographic Screening for Structural Heart Intervention," by Hahn et al. which appeared in the January 2022 JASE. Several letters to the editor offer robust discussion.
The President's Message from Raymond Stainback, MD, FASE, explores CASE, which in May goes monthly. The CASE Editor-in-Chief, Vincent L. Sorrell, MD, FASE, is a co-author. The continuing education and meeting calendar outlines a multitude of learning options near and far.