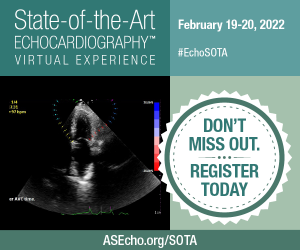 In discussion with the ASE leadership, course director William A. Zoghbi, MD, FASE, and co-director Sunil V. Mankad, MD, FASE, have decided to transition State-of-the-Art Echocardiography from an in-person event to an online event. State-of-the-Art Echocardiography Virtual Experience will take place February 19 – 20, 2022. The decision to cancel the in-person course was difficult, but the health, well-being, and safety of our attendees, faculty, and staff is of utmost importance.
It was imperative to the course directors that the re-envisioned program include all the expert faculty and provide outstanding education in structural heart disease, myocardial disease, coronary artery disease, and more. Presentations will highlight what echo brings to each theme, help clinicians recognize and avoid common errors and pitfalls, and learn how to apply the guidelines in a practical manner. There is also a special "Read with the Experts" session planned for Saturday afternoon.
The live broadcast begins at 9:00 AM ET on Saturday, February 19, 2022. Register by February 18 to access the live broadcast.
Faculty will be joining live to answer questions.
This course offers15 CME/MOC credits (pending approval). 
All of the live sessions, including the Q&A, will be recorded.
Access to the recorded content will be available in the ASE Learning Hub March 7, 2022 through May 20, 2022.