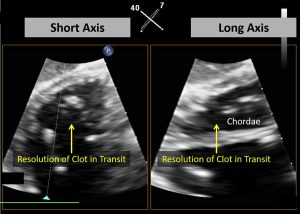 The latest issue of CASE, ASE's online case reports journal, is available and contains, "Clot in Transit on Transesophageal Echocardiography in a Prone Patient with COVID-19 Acute Respiratory Distress Syndrome," by James M. Horowitz, MD, Eugene Yuriditsky, MD, Ian J. Henderson, MD, Maxine Wallis Stachel, MD, Benjamin Kwok, MD, and Muhamed Saric, MD, PhD, FASE. Lead author Dr. Horowitz said, "Thrombotic events are common among patients with COVID-19. A high index of suspicion for pulmonary embolism should be maintained among patients with respiratory or hemodynamic decompensation. We reported a clot-in-transit in such a case using transesophageal echocardiography allowing for immediate bedside diagnosis with the patient maintained in prone position."
Takotsubo cardiomyopathies, rheumatic heart disease, transesophageal surgical situations, anatomic anomalies, masses, myxomas, thrombus, and interventional image guidance (both in human and animal patients) are other topics explored. One of the interventional image guidance cases looks at the novel use of echo fusion and cardiac computed tomographic imaging guidance for percutaneous paravalvular leak closure and comes from Lucy M. Safi, DO, FASE, FACC, et al.
CASE is a valuable tool for mentors, educators, and sonographers to utilize while elevating everyone's detective abilities. CASE co-Editors-in-Chief, L. Leonardo Rodriguez, MD, FASE, and Karen G. Zimmerman, BS, ACS, RDCS, RVT, FASE, are very grateful to the all the authors and reviewers who have dedicated their time and effort to helping CASE continue its mission of publishing high-quality educational content. "We hope that the CASE community remains safe and engaged as we move forward in uncharted waters."
CASE always wants to hear from readers and potential authors with opinions and questions. Don't hesitate to email managing editor, Deborah Meyer at DMeyer@ASEcho.org.