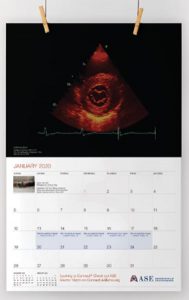 Thank you to everyone who submitted images for the ASE 2020 Image Calendar Competition. Now it is time to vote for your favorite images to be featured in a colorful, 12-month calendar that will be sent to all members who renew by December 31, 2019. Help your friends and colleagues win by voting today.
To vote for your favorite echo images:
Browse the images uploaded in the ASE 2020 Calendar Contest Image Library.
Under "Statistics" on the right, select "Actions," then select "Add to Favorites"
Designate "Favorite" for as many images as you'd like.
Each favorite selection counts as one vote. If you have any questions, please contact ASE at acooper@asecho.org. We need your input to create a beautiful and interesting 2020 image calendar.