Your Performance Stands Out, So Should YOU!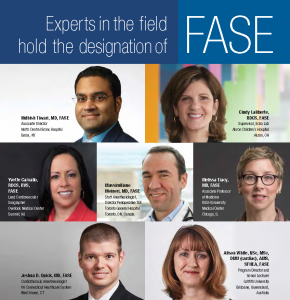 Echo practitioners of all specialty types who demonstrate proficiency and dedication to the field of cardiovascular ultrasound may apply for FASE.
The FASE credential recognizes the dedicated ASE member with an extraordinary commitment to the field of cardiovascular ultrasound. This designation is a peer-review process.
Click the link below to your applicable point guidelines and review FASE requirements that apply to you.  Due to the nature of the requirements, sonography students, medical students, fellows and residents are not eligible to apply for FASE.  Please see Way to FASE.
Physician
Sonographer/Allied Health Professional
Scientist/Researcher
To submit your FASE application, log into your ASE member portal and select "FASE Application" from the menu bar under the 'Membership' Tab.  You will find the list of required documents on the FASE Checklist.
Please note that you must hold two consecutive years of membership (previous year and current year) in ASE before you are eligible to apply for FASE.
Applicants who earn the National Board of Echocardiography Diplomate Status by successfully passing the CCEeXAM are eligible for up to 10 points on the Physician FASE Checklist.
FASE RESOURCES
Questions?  Please contact ASE at FASE@asecho.org, or call 919-297-7153.
FASE benefits:
FASE recognition on name badges at ASE meetings
FASE credential used when speaking at an ASE meeting
Recognition as a new FASE member at ASE's Annual Business Meeting during the ASE Scientific Sessions
Entitlement to use designation of Fellow (FASE) on business cards, curriculum vitae and other professional documents
Recognition in an The Echo eNewsletter the month after receiving FASE.
Recognition in a post in the Breaking News section of the ASE website.
Potential ability to command increased compensation. ASE survey results show FASE status can result in a higher pay scale (ASE 2010 Sonographer Survey)
Ability to serve in ASE's premier volunteer positions. FASE fulfills a criteria for being nominated to ASE's board of directors, or appointed to serve as a committee chair
Ability to be located by the public. As a public service, FASEs are listed by state on ASE's public information website: SeeMyHeart.org
Ability to promote your status. FASE members receive a FASE certificate to display in their office
FASE lapel pin to wear on their attire and ribbons at ASE meetings
Access to special events like early-bird registration and access to the FASE lounge at the ASE Scientific Sessions for unique networking and VIP amenities
Application deadlines: February 1st, April 1st, June 1st, August 1st, October 1st, December 1st
Congratulations 2022 FASE Recipients!
So far during 2022, ASE has welcomed 44 new FASE. These members have exemplified excellence through education, research, leadership, and volunteerism. They are ambassadors for ASE and recognized experts in their field.
Each year ASE selects one or more of our colleagues living outside the US to receive the special designation of Honorary Fellow of the American Society of Echocardiography.  Twenty-six recipients have been recognized to date … some for their innovations, and others for their leadership. We have all benefited from their science and their friendship.
List of Honorary FASE Recipients (alphabetically).