About ASE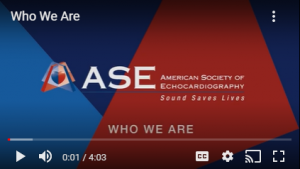 The American Society of Echocardiography (ASE) is the Society for Cardiovascular Ultrasound Professionals™️. ASE is the largest global organization for cardiovascular ultrasound imaging serving physicians, sonographers, nurses, veterinarians, and scientists and as such is the leader and advocate, setting practice standards and guidelines for the field. Since 1975, the Society has been committed to advancing cardiovascular ultrasound to improve lives. The Society and the field of echocardiography are featured in a set of videos capturing the recollections of ASE's founders and past presidents.
ASE membership is open to all with an interest in echocardiography.  Join the most important voice in cardiovascular ultrasound!
ASE's Mission
To advance cardiovascular ultrasound and improve lives through excellence in education, research, innovation, advocacy, and service to the profession and the public.
ASE's Core Values
Ethical Behavior
Professionalism
Excellence
Advancing Knowledge
Diversity
Caring Community
ASE has Board of Directors composed of 20 voting members who are cardiovascular ultrasound specialists. These individuals are elected to the Board by a nominations process, open to all voting members and ratified by the membership of the organization. Individuals elected to the Board serve for two years.
2020-2025 ASE Strategic Goals
ASE effectively develops strategic partnerships to support research.
ASE is the leader in meeting the educational needs of the cardiovascular ultrasound community.
ASE is indispensable for the development of any new cardiovascular ultrasound technology and applications.
ASE is a growing organization and recognized as the world's leading voice in cardiovascular ultrasound.
ASE embraces and advocates for all cardiovascular ultrasound users.
Advancing Cardiovascular Ultrasound To Improve Lives.