The complexities of using echocardiography in the diagnosis of cardiac amyloidosis are numerous. ASE is pleased to provide these educational resources on the early diagnosis, treatment, and management of cardiac amyloidosis. There is also an increasing appreciation that this disease is more prevalent than previously thought, and there are newer therapies for the treatment which are important to consider in patient care.
ASE On-Demand Webinars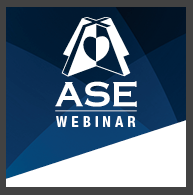 ASE On-Demand Webinar: How to Image Cardiac Amyloidosis: from Basic & Advanced Echocardiography to Multimodality Imaging
ASE On-Demand Webinar: Beyond the Basics of Cardiac Amyloidosis: Pearls and Pitfalls of Imaging and Diagnosis
ASE On-Demand Webinar: Read with the Experts – Challenging Cases with Cardiac Amyloid
Earn 1 AMA PRA Category 1 Credit™ for participation in each of these webinars. Free for Members and Nonmembers.
ASE gratefully acknowledges Pfizer, Inc. for their support of this webinar series.
Guidelines
ASNC/AHA/ASE/EANM/HFSA/ISA/SCMR/SNMMI Expert Consensus Recommendations for Multimodality Imaging in Cardiac Amyloidosis: Part 1 of 2—Evidence Base and Standardized Methods of Imaging
Articles
Articles published on amyloidosis in the Journal of the American Society of Echocardiography (JASE).
Cases
Cases on amyloidosis published in CASE, ASE's online case reports journal.