ASE Training Information for Cardiovascular Sonographers
New ASE Product Specifically Designed for Cardiac Sonography Programs
CAAHEP CVT or DMS Program Directors: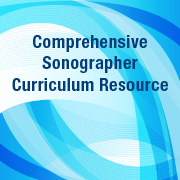 Register today for the Comprehensive Sonographer Curriculum Resource.
This educational product is designed to be a curricular resource for Cardiac Sonography Programs. Current curated ASE content was mapped to Standards and Guidelines for the CAAHEP CVT and DMS programs. ASE content was also mapped to the NEC document. From this curriculum mapping activity a curricular resource for accredited Cardiac Sonography programs was developed.
This product provides access to 40 learning modules for accredited programs to use as curricula content. The accredited sonography program is able to register, and the program director will receive a complimentary subscription to all content in the Sonography Curriculum Resource product through the ASE Learning Hub.
Q: What you should know before you decide to enter an Ultrasound Educational Training Program?
A: The decision to attend an Ultrasound Training Program is not an easy one. You want to make the correct decision for you and your future, and there are many variables which complicate the decision. For example, is the program accredited, and what does that mean to me? In order to help you understand these variables we have provided the following information to assist you in your career advancement.
Q: Which programs are accredited and what does it mean to my decision?
A: The Commission on the Accreditation of Allied Health Education Programs (CAAHEP) has a listing of all accedited programs. These programs are grouped into programs that concentrate on Cardiovascular Technology (JRC-CVT) and those that concentrate on Diagnostic Medical Sonography (JRC-DMS). CAAHEP programs have applied and have been granted accreditation for the demonstration, and maintenance of standards of instruction. If you graduate from a CAAHEP program you are able to sit for registry exams with the American Registry of Diagnostic Medical Sonography (ARDMS) http://www.ardms.org or Cardiovascular Credentialing International (CCI) http://www.cci-online.org , without any other significant requirements.
Q: If I attend a non-CAAHEP program can I become registered or credentialed?
A: At this point in time there are ways to qualify to sit for the exams without attending a CAAHEP program. The requirements for taking the exams are posted on the associations? website.
Q: Do I need to work toward becoming a registered or credentialed sonographer?
A: Becoming credentialed or registered in sonography denotes a level of knowledge and understanding within your profession. There are many changes occurring in the healthcare industry which point toward requirements for credentialed or registered sonographers. For example, many healthcare insurers are beginning to not pay for studies perfor by non-registered, or non-credentialed sonographers. For these reasons, many more employers are requiring credentialing, and are paying higher salaries for credentialed sonographers.
Q: What should I know about the school's curriculum and practical clinical experience?
A: You should know who the program director is, and how they structure the program. You should ask how the program is split between didactic and clinical learning. Some programs do a full time period of didactic learning, followed by clinical experience. Other programs mix in didactic with clinical. It is also important to understand how the curriculum is presented. You would like to make sure you are receiving knowledge from someone experienced, not just trying to learn it on your own.
Q: Where will I do my clinical internship?
A: Most schools have a relationship, and agreement with certain ultrasound labs, either based in a physician?s office, hospital, or clinic. These labs must meet various requirements which the school has set up, including who is doing the mentoring. There are, however, the possibilities of setting up new clinical sites in your own geographic area, if the lab is able to come to an agreement with the specific school.
Q: What are the prerequisites for getting into a school?
A: All schools have different prerequisites and entry requirements. This somewhat depends on whether the program is a CAAHEP program. It is best to contact the school to learn what they require.
Q: Is the size and length of the program important?
A: The size of a program can vary greatly. It is important to find a program that fits your comfort level. It is also important to make sure there is a good student to faculty ratio. The length of the program will also vary greatly. This again relates to CAAHEP status. There are programs from one-year to four-year degree programs. The important factor is to make sure you can match your life situation with your goals for the profession.
Q: Do the costs vary from program to program?
A: There is tremendous variation in the cost of attending a training program. Some programs are based within their local community college and therefore are less expensive. Others are four-year degree programs that can be very expensive. There are scholarships and financial aid for attending some programs. A creative way to defer the cost of school is a new idea of work pay back. In this model, some employers will pay tuition for those who graduate from a sonography program and commit to work for them as a sonographer for a certain time. This method has become popular because of the shortage of qualified sonographers.
Q: Are there any scholarships available from ASE?
A: The American Society of Echocardiography Education and Research Foundation (ASEF) is pleased to offer annual scholarships for students enrolled in a cardiac ultrasound program accredited by the Commission on Accreditation of Allied Health Education Programs (CAAHEP) in the United States, or by an equivalent Canadian or overseas ultrasound program, which follows the ASE Sonographer Core Curriculum in echocardiography.  Recipients receive a $1,000 grant towards their school expenses, a complimentary one-year membership in the Society, and a free annual convention registration.  For more information visit ASE's Award Page.
Q: How do I find an Accredited Cardiovascular Ultrasound School?
A: Visit the Commission on Accreditation of Allied Health Programs search page. You will also find good FAQ information.
Q.  Did you know there is an accredited educational pathway for advanced cardiovascular sonographers?
A.  The Commission on Accreditation of Allied Health Education Programs (CAAHEP) has approved a professional designation – Advanced Cardiovascular Sonography (ACS).  The role of an Adult Echocardiography Advanced Cardiovascular Sonographer (ACS) is to assist staff sonographers in assessing cases that require specific echocardiograph methods; review studies that have been performed by the staff sonographer in preparation for review by the supervising cardiologist; provide in-service education for staff sonographers of new methods that are to be incorporated in the echo examination; ensure that the necessary echocardiographic data is obtained based on the clinical history and presentation; and establish quality assurance measures to maintain the highest standard of care of a laboratory by closely monitoring sonographer performance and identifying training needs.  The ACS is a highly skilled professional qualified by education, experience and recognized certification to provide the above services.  The ACS works directly under physician supervision applying clinical knowledge to the echocardiography exam to ensure that appropriate information is obtained to answer the clinical question.
ASE is the initial sponsor for the Committee on Accreditation for Advanced Cardiovascular (CoA-ACS), a CAAHEP committee that developed the Standards and Guidelines for Educational Programs in Advanced Cardiovascular Sonography and makes programmatic accreditation recommendations to CAAHEP.  The concept of an ACS began with an ASE Task Force on Advanced Cardiovascular Sonography which developed a white paper published in the Journal of the American Society of Echocardiography.  Ultimately, this task force pursued and achieved program approval by CAAHEP.  ASE has also published an article in The ECHO on the ACS and has promoted ACS discussions on  Connect@ASE.
Q.  How can I get my educational program accredited to offer the Advanced Cardiovascular Sonography curriculum?
A.  Program directors interested in offering a CAAHEP accredited program in advanced cardiovascular sonography should contact the CoA-ACS by email at coaacs@gmail.com; by phone at 919/465-9020; or visit their website at www.coaacs.org.
Please also check our FAQ's for Cardiovascular Sonographers.
Sonographer Specific Live Continuing Education Sponsored by ASE
ASE Scientific Sessions

offers tracks devoted to Cardiovascular Sonography.

Local Societies offer ASE sponsored CEU's.
Online Continuing Medical Education
You can get some of your continuing medical education credits online.  They are convenient and fast.  Visit the ASE Learning Hub for online echocardiography courses.