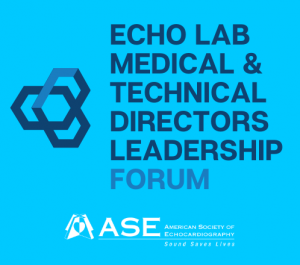 ASE has created a new group, Echo Lab Medical and Technical Directors Leadership Forum. The purpose of this group, led by ASE Past President Judy Hung, MD, FASE, is to create a discussion around lab management issues.
Join the ASE mailing list for more information about this group
On-Demand Webinar
Managing Echo Lab Workforce Changes During and Post COVID
This webinar discusses how best to tackle the daily challenges of staff and working in the everchanging environment of COVID in the Echo Lab.
Topics include:
Sonographer workforce shortages
Work-related musculoskeletal injuries-Update from the OSU Research Study
Omicron variant and how it is different this time around in lab management
Moderator: Judy Hung, MD, FASE
Panelists: Keith Collins, MS, RDCS, FASE; Kevin Evans, PhD, RT(R) (M) (BD), RDMS, RVS, FSDMS, FAIUM; Anitha Parthiban, MD, FASE; Dermot Phelan, MD, PhD, FASE; and Neha Soni-Patel, MEd, BSME, RCCS, RDCS (AE/PE), FASE
This webinar is free for ASE members and nonmembers.