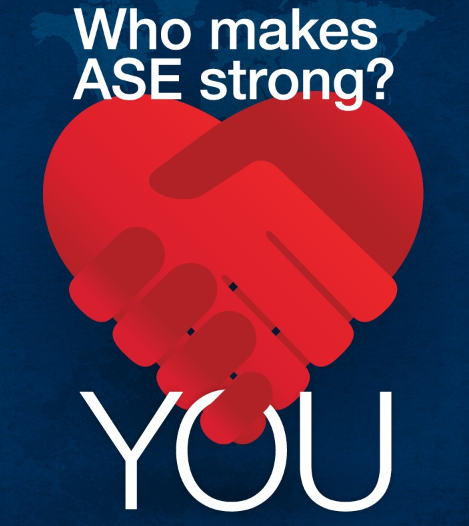 Recruit one new member and you BOTH receive an ASE branded Badge Holder*.
Recruit five or more new members and your 2025 ASE membership will be FREE.
*International Ambassadors and International new members through this program will receive an ASE branded face mask.
Thank you to those members who referred 5 or more new members!
2023

Nadia Abelhad MD
Bonita Anderson M.APPL.SC, DMU, AMS, ACS, FASE, FASA
Lily Berthe RDCS
Paul Braum BS, RDCS, RCS, RVT, RVS, ACS, FASE
Barry Canaday MS, RDCS, RCS, FASE
Franki Cannova RCS
Allison Droddy RT (R), RDCS
James Fowler RCS
Beth Lampe BS, RDCS, RDMS
Stephen Little MD, FASE
Kalpana Mahatpure
Collen Manganiello RCS
Patrice McKay RDCS, FASE
Benjamin Ochoa RCS
Brad Roberts BS, ACS, FASE
Carla Scalici RDCS, RDMS, RVT
Steven Walling BS, ACS, RCS, RDCS, FASE
Susan Wiegers MD, FASE
Who makes ASE strong? YOU. 
You make ASE the largest voice in cardiovascular imaging in the world.
You know the value of membership and can share it with your colleagues.
You can encourage them to join ASE to maintain the influence of the echo community.
Top 3 Reasons for Members to Refer New Members:
Create a stronger community of peers to collaborate with
Increase your network to become a leader in your workplace/academic institution
Recruiting New Members is FUN and EASY!
Tips for Recruiting New Members:
Send an email to a friend or colleague.
Use social media to promote the member benefits you receive from ASE.
Invite them to participate in an ASE webinar.
Search the ASE Member Directory on ASE Connect to see who's missing.
Send a link to the ASE/ASE Learning Hub websites.
Share an ASE advocacy update.
Share ASE course information.
Keep a copy of JASE in the echo lab.
Publish an article in your workplace newsletter about ASE.
Make announcements about the value of ASE membership in weekly/monthly staff meetings.
Follow up to see if your contacts have any questions and encourage them to join.
Get CREATIVE and spread the word!
A Member Recruiting Toolkit is available here.
ASE Organizational Membership Page here.
Interested but don't have the time to actively recruit?
No problem, simply send an email to Christine Gil at CGil@ASEcho.org with the following information: Name, email address, and member type (ie: physician/sonographer/student)  and we will reach out to your contacts on your behalf.  The best part, You get all the credit!
The Rules: The member referral program is an ASE member benefit designed to encourage current members to spread the word about the value of ASE membership. If you are not sure of your member status, call us at 919-861-5574. This offer expires August 31, 2024. New members must include the referring member's name on the membership application to receive the ASE referral gift. Referring credit is received once a new member joins ASE. A maximum of one free membership per member per year can be earned.