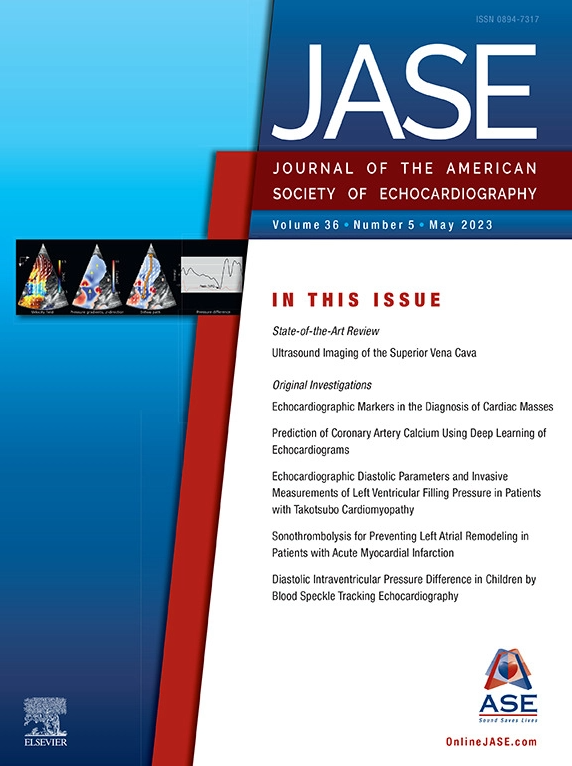 The May issue of JASE includes "Prediction of Coronary Artery Calcium Using Deep Learning of Echocardiograms." Lead author Neal Yuan, MD, notes that, "In this study we showed that a deep learning video-based model was able to predict coronary calcium levels from transthoracic echocardiograms. This could implicate a future role for using echocardiograms, a widely accessible imaging modality deployable at the point-of-care, for coronary artery disease risk stratification. Our findings also continue to speak to the powerful and exciting capabilities of deep learning models, which are allowing us to unlock and discern complex patterns present in echocardiograms and other information-dense imaging data that have been previously unappreciated."
Additionally, the state-of-the-art review highlights ultrasound imaging of the superior vena cava. Other clinical investigations explore echocardiographic features of cardiac masses and diagnosis, deep learning of echocardiograms focusing on pediatric patients, echocardiographic diastolic parameters and invasive measurements of LV filling pressure in cardiomyopathy (accompanied by an editorial comment), novel roles for ultrasound enhancing agents, also with an editorial, blood speckle tracking for assessment of intraventricular pressure gradients in children, normal values of LV mass by echocardiography, and fetal ventricular strain measurement. Several brief research communications add to this panoply of subjects, such as whether the limited access necessitated by the pandemic affected newborns with single-ventricle congenital heart disease. The letters to the editor will engage readers regarding two prior JASE publications.
Dr. Patricia A. Pellikka, JASE Editor-in-Chief, has written a beautiful In Memoriam article regarding the rich and profound life of Bijoy K. Khandheria, MD, FASE, who passed away in February. Dr. Khandheria was the 16th president of ASE, and his joy for echocardiography was infused into everyone he met and knew.
The President's Message from Stephen H. Little, MD, FASE, "The House of Cardiology," explores ASE's conversations and relationships with the other numerous organizations that embrace and complement echocardiography, and why this synergy is so vital. The May ASE Education Calendar lists education opportunities far and wide.