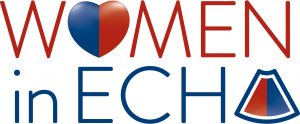 In early 2021, ASE created a Women in Echo community. If you are a woman physician, veterinarian, sonographer, fellow-in-training, nurse, rising star, student, practicing in the field of cardiovascular ultrasound, the Women in Echo community is for you. Men are also welcome to join to be allies and support their female colleagues.
The community on Connect@ASE provides you with a forum to collaborate with women of all specialty areas and backgrounds to address the issues that are most important to you. Network, share your ideas, find a mentor, develop your leadership skills, advance your career, and much more. The Women in Echo community is e a place where we can advocate for the interests of female ASE members and encourage young women to pursue careers in cardiovascular ultrasound. To join the community on Connect@ASE, go to your ASE Member Portal and select Women in Echo in the Communities section of your profile.
On-Demand Webinars
Women in Echo – Celebrating Echo's Female Leaders
This webinar celebrates echo's female leaders and how these innovative women have not only been instrumental in shaping the field of cardiovascular ultrasound, but also ASE and the ASE Foundation. Viewers will garner insights on career pathways and how your contributions could make a difference in the future too.
Topics include:
A brief history of Women in Echo and in ASE as an organization
One on One Chat with Dr. Pamela Douglas (ASE's first female President)
Goals of the ASE Foundation and overview of Douglas Endowment Fund
How to become involved in the Women in Echo Community
Moderator: Ritu Thamman, MD, FASE
Speakers: Judy Hung, MD, FASE; Pamela Douglas, MD, FASE ; Carol Mitchell, PhD, RDMS, RDCS, RVT, RT®, ACS, FASE and Madhav Swaminathan, MD, FASE