A WORLD VIEW OF ECHOCARDIOGRAPHY
Take a trip around the world of echocardiography … 

No passport required!
International Alliance Partners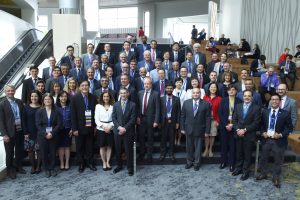 The definition of the word "alliance" is a pact, coalition or friendship between two or more parties, made in order to advance common goals and to secure common interests. The ASE International Alliance Partners program was developed in 2016 to create a pathway for collaborations and shared resources among participating membership-based echocardiography/cardiology societies. We proudly recognize 34 societies as collaborating partners.
Photo: Echo society leaders worldwide participated in the International Leadership Luncheon during the ASE Scientific Sessions in 2019.
---
ASE Guidelines – Translations and Dissemination
ASE guideline documents are increasingly used by the global cardiac ultrasound community, so the Society collaborates with its International Alliance Partners to translate and disseminate these documents, as well as accompanying guideline posters and webinars. These translations are prepared by medical teams in their native languages. The guideline documents, available in eight languages, are available at ASEcho.org/Translations. In addition, guideline webinars have been translated into Spanish, Portuguese, and Mandarin. All guideline translations and dissemination are supported by donations to the ASE Foundation.
---
WASE Research Studies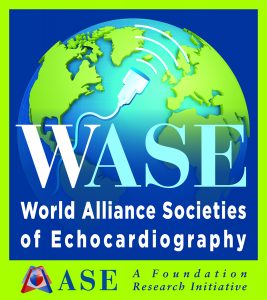 The World Alliance Societies of Echocardiography (WASE) brings together the global scientific cardiovascular ultrasound community to improve patient care.
The WASE Normal Values Study was conducted to understand if the current recommended normal values for heart dimensions and function in adult subjects from different races and countries are similar or different. The collaboration included study centers from 16 countries including the US, Canada, Mexico, Brazil, Argentina, Australia, Nigeria, India, China, Japan, Korea, Indonesia, Philippines, Iran, Italy, and the United Kingdom.
The WASE-COVID Study was designed to describe echocardiographic characteristics and to identify echocardiographic parameters that would be prognostic of clinical outcomes in patients admitted with acute COVID-19 disease. The study was conducted with medical centers from 9 countries including the US, Italy, Mexico, United Kingdom, France, Iran, Philippines, Brazil, and China.
Principal Investigators for the WASE Normal Values Study and the WASE-COVID studies are Roberto M. Lang, MD, FASE and Federico M. Asch, MD, FASE. "We believe the information derived from this effort will be of benefit for echocardiography worldwide, not only in describing each population but in comparing them to each other," said Dr. Lang.
The WASE studies are funded by the ASE Foundation and its donors, with generous in-kind support from MedStar Health, University of Chicago, TOMTEC Imaging Systems, Medidata, and Ultromics.
---
Honorary FASE
The Honorary Fellow of the American Society of Echocardiography award was established in 2008 to recognize our colleagues living outside the United States who have made significant contributions to the field of cardiovascular ultrasound, and who have played a strong role in building international relationships with the Society. Recipients may be selected for their scientific innovations, or for their exceptional leadership and vision. All serve as ambassadors for our field and for ASE throughout the world.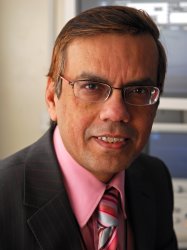 In 2021, ASE is proud to recognize Roxy Senior, MD, DM (photo right) with the Honorary FASE award. Dr. Senior is Professor of Clinical Cardiology at the National Heart and Lung Institute, Imperial College London and Consultant Cardiologist and Director of Echocardiography at the Royal Brompton Hospital, London, England. Congratulations, Dr. Senior!
Previous recipients (alphabetical order):
Luigi Badano, MD, PhD, FASE (Italy)
Marcia Barbosa, MD, FASE (Brazil)
Shintaro Beppu, MD, FASE

 

(Japan)
Roberto Canessa, MD, FASE (Uruguay)
Namsik Chung, MD, FASE

 

(Korea)
Alessandro Distante, MD, FASE

 

(Italy)
Jean Dumesnil, MD, FASE (Canada)
Raimund Erbel, MD, FASE

 

(Germany)
Maurizio Galderisi, MD, FASE (Italy)
Liv Hatle, MD, FASE

 

(Norway)
Sabino Iliceto, MD, FASE (Italy)
Hiroshi Ito, MD, PhD, FASE (Japan)
Ravi Kasliwal, MD, FASE (India)
Pham Gia Khai, MD, PhD, FASE (Vietnam)
Jorge Lowenstein, MD, FASE

 

(Argentina)
Gerald Maurer, MD, FASE (Austria)
Jagdish Mohan, MD, DM, FASE (India)
Satoshi Nakatani, MD, PhD, FASE (Japan)
Fausto Pinto, MD, PhD, FASE

 

(Portugal)
Arnaldo Rabischoffsky, MD, FASE (Brazil)
Jos Roelandt, MD, PhD, FASE

 

(Netherlands)
Otto Smiseth, MD, FASE

 

(Norway)
Chuwa Tei, MD, FASE

 

(Japan)
Xinfang Wang, MD, FASE

 

(China)
Kiyoshi Yoshida, MD, PhD, FASE (Japan)
Junichi Yoshikawa, MD, FASE

 

(Japan)
Jose Zamorano, MD, FASE

 

(Spain)
Yun Zhang, MD, PhD, FASE (China)
Tiangang Zhu, MD, FASE (China)
---
International Leadership Award
The International Leadership Award was established in 2015 as a pathway for recognition of ASE members outside the United States who have already received FASE designation and are deserving of recognition for outstanding contributions to the field of Cardiovascular Ultrasound through innovations, education, or leadership.
Recipients:
Ricardo E. Ronderos, MD, PhD, FASE (Argentina)
---
International Relations Advisory Committee Leadership and Staff
Federico M. Asch, MD, FASE – Co-Chair
Sunil Mankad, MD, FASE – Co-Chair
Andrea Van Hoever, MSGH – Staff Liaison, AVanHoever@ASEcho.org
The International Relations Advisory Committee works to enhance the global perception of cardiovascular ultrasound and the ASE. The Society works in a variety of settings to assure the growth and excellence in cardiovascular ultrasound around the world and actively develops internationally distributed recommendations documents for improved patient care worldwide.
Disclaimer: All information about foreign country programs featured on this webpage are provided solely as a courtesy and reference source by ASE, but such programs are not conducted or sponsored by ASE. ASE does not warrant the completeness or accuracy of the information posted on this webpage. All persons interested in participating in any of the volunteer programs listed on this page should consult with the program sponsor for information regarding the financial costs, personal injury risks and other details of each program. In no event shall ASE be liable to you, your patients, or any other third parties for any participation in any of the volunteer programs listed on this page or for any decision made or action taken by you or such other parties in reliance on the program information. 

ASE will be pleased to post information about international meetings or activities with significant echocardiography content. Please send news for this page to AVanHoever@ASEcho.org. Thank you!