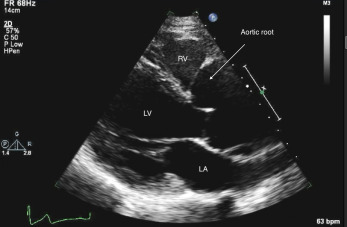 The latest issue of CASE, ASE's open access case reports journal, is now available with some fascinating reports, including "Ascending Aortic Aneurysm in an Asymptomatic Young Woman Without Risk Factors" by Amrin Kharawala, MD et al. CASE Editor-in-Chief, Vincent L. Sorrell, MD, FASE, noted, "In an important reminder to all of us who perform noninvasive imaging, the unpredictable nature of aortic disease should never stray too far from our clinical acumen. These authors report on an incidentally discovered 65mm ascending aorta in a young woman without a connective tissue disorder, aortic syndrome, or associated family history. They include excellent high-quality images from 2D echo, color flow Doppler and CT. Although surgical repair was impacted by a series of post-operative complications and a prolonged hospital course, this CASE presentation should serve as a critically relevant proclamation that we have much to learn about aortic disease. Echocardiography remains the best option we have for early detection and serial assessment, and it is incumbent upon us to obtain high quality images and report carefully measured maximal dimensions at every occasion."
This issue contains two other Just Another Day in the Echo Lab cases, including severe aortic regurgitation caused by AV fenestrations and AV avulsion and embolization as a complication during TAVI. Learn more from reading their details on innovative management. Additionally, there are two reports in the Congenital Heart Disease category and three in the Cardiac Tumors and Pseudotumors category, featuring a study of a young man with Factor V Leiden experiencing a massive LV thrombus after a STEMI. In Dr. Sorrell's editorial, he furthers his discussion on Doppler, drawing comparisons between the advancements of detection capabilities by U.S. military radar and those in the echo world through tissue Doppler methodologies (TDE).
The editorial also notes key inclusions for a successful CASE report, especially those on patients with a cardiac mass, as the Journal must select from several submissions each month in the Cardiac Tumors and Pseudotumors category. If you are looking for a journal to submit your case report to, CASE is the place. Email us with questions or submit your report today!
Be sure to check out the latest Sonographer Sound-Off and Unlock the CASE features on the CASE Homepage to dive deeper into new CASE content.