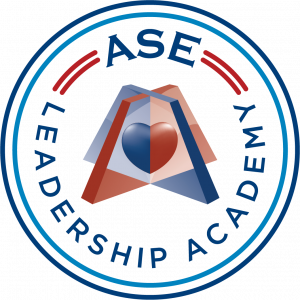 Application for Cohort 4 (2024-2026) will open Spring 2024.

This program provides a unique opportunity for ASE members to increase their knowledge and develop a skill set that will help them in their careers and personal life.  During this 20-month program, participants will be matched with a senior adviser, acquire a personalized evaluation of their leadership aptitude, and receive high-quality online tutorials on leadership topics valued at over $7,500.
Welcome to Cohort 3!
Jennifer Acevedo ACS, RDCS, FASE Ann & Robert H. Lurie Children's Hospital of Chicago
Bhaskar Arora MD, FASE Oregon Health & Science University
Kiran Belani MD, FASE Inova Fairfax Hospital
Courtney Cassidy RDCS, FASE Children's Hospital Colorado
Tiffany Chen MD, FASE Hospital of the University of Pennsylvania
Nadeen Faza MD, FASE Houston Methodist
Cody Frye BA, RDCS, FASE Sanger Heart and Vascular Institute – Atrium Health
Gary Huang MD, FASE University of Washington, Seattle WA
Denise Ignatowski BS, RDCS, FASE Aurora Health Care
Megan Kraushaar BS, RCS, FASE UCSD Medical Center
Shiraz Maskatia MD, FASE Stanford University Medical Center
Anuj Mediratta MD, FASE, FACC Morristown Medical Center
Purvi Parwani MD Loma Linda University Medical Center
Bo Xu MD, FASE, FACC Cleveland Clinic Foundation
Megan Yamat RDCS, RCS, ACS, FASE University of Chicago Medical Center
"Participation in the ASE Leadership Academy provided the skill set and tools necessary to accelerate my career to the next level. The people involved, from ASE staff to volunteers to peers, all provided insights, knowledge, and connections invaluable to those interested in progressing to leadership positions."  Dermot Phelan, MD, PhD, FASE – 2020 Graduate