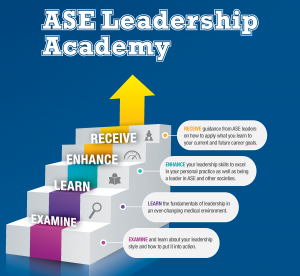 Applications are now closed for the ASE Leadership Academy.  This program provides a unique opportunity for ASE members to increase their knowledge and develop a skill set that will help them in their careers and personal life.  During this 19-month program, participants will be matched with a senior adviser, acquire a personalized evaluation of their leadership aptitude, and receive high-quality online tutorials on leadership topics valued at over $5,000.  The second cohort is limited to 15 people. Applications and recommendation letters were accepted until August 1, 2020.
In response to this year's global health crisis, the ASE Foundation (ASEF) is more committed than ever to making sure the next generation of cardiovascular ultrasound leaders has the tools and resources it needs to grow in both their careers and personal lives. The ASEF, with the help of our generous donors, raised over $5,000 for COVID-related aid in May. ASEF is now proud to offer a $100 scholarship to all applicants accepted for the ASE Leadership Academy's second class from these funds. This scholarship will be awarded upon notification of selection for the program.
View the Inaugural ASE Leadership Class participants.
"Participation in the ASE Leadership Academy provided the skill set and tools necessary to accelerate my career to the next level. The people involved, from ASE staff to volunteers to peers, all provided insights, knowledge, and connections invaluable to those interested in progressing to leadership positions."  
2018-2020 ASE Leadership Academy participant, Dermot Phelan, MD, PhD, FASE