September 25 – October 1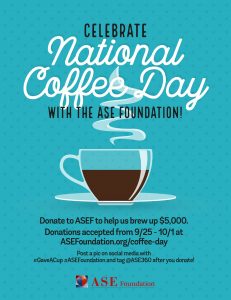 National Coffee Day is September 29, and the ASE Foundation is celebrating by hosting its 5th annual Coffee Day fundraiser!
Join the Foundation September 25 – October 1 to help raise $5,000. Donate what you would normally spend on a cup of coffee to ASEF. Your contribution will help us meet our Annual Appeal goal and raise much needed funding that supports scholarships, guideline dissemination, and research!
Mark your calendars and plan to "Donate A Cup" to ASEF! Want to make an early pledge and get the brew going? Contact Foundation Specialist Sophia Pumphrey.