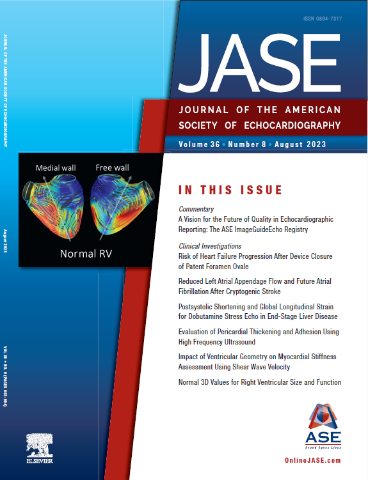 The August issue of JASE includes, "The Risk of Heart Failure Progression in Patients With Patent Foramen Ovale: Differential Risk Associated With Device Closure." Regarding this intriguing report, authors Jae-Hyeong Park, MD, PhD, and Goo-Yeong Cho, MD, PhD, remark, "Patients who have undergone device closure for a patent foramen ovale may be at increased risk for heart failure (HF), which is usually associated with underlying structural heart disease or atrial fibrillation. Therefore, these patients at high risk for developing HF require careful medical monitoring with optimal risk management."
This issue features a myriad of clinical investigations on topics ranging from left atrial appendage flow and future atrial fibrillation, to ultrasound assessment of pericardial thickening and adhesion, to impact of ventricular geometry on myocardial stiffness assessment using shear wave velocity. You can review the results of the World of Alliance Societies of Echocardiography (WASE) study on normal values of three-dimensional right ventricular size and function measurements while examining the future of quality in echocardiographic reporting through the lens of ASE's ImageGuideEcho Registry. Brief research communications include reports on the usefulness of Doppler TTE for the diagnosis of wide QRS complex tachycardia and utility of Doppler systolic timing intervals in discriminating "true" severe from "pseudo-severe" stenosis in classical low-flow, low-gradient aortic stenosis.
Highlighted within this issue is stress echo—a clinical investigation on postsystolic shortening and global longitudinal strain for dobutamine stress echo in end-stage liver disease, and Dr. Pellikka's editorial, which presents recent reports in stress echo's improved detection and evaluation of CAD. Take full advantage of your ASE membership with Dr. Eidem's President's Message providing 10 tips for getting involved in ASE's diverse programs.
A JASE Call for Papers for a 2024 Focus Issue is now live! Submit your original research studies, reviews, letters, and brief research communications addressing precision imaging in adult or pediatric echo by October 30. Find more information here. Please see the August ASE Education Calendar for a listing of educational opportunities far and wide.