Medical Ultrasound Awareness Month
October 2022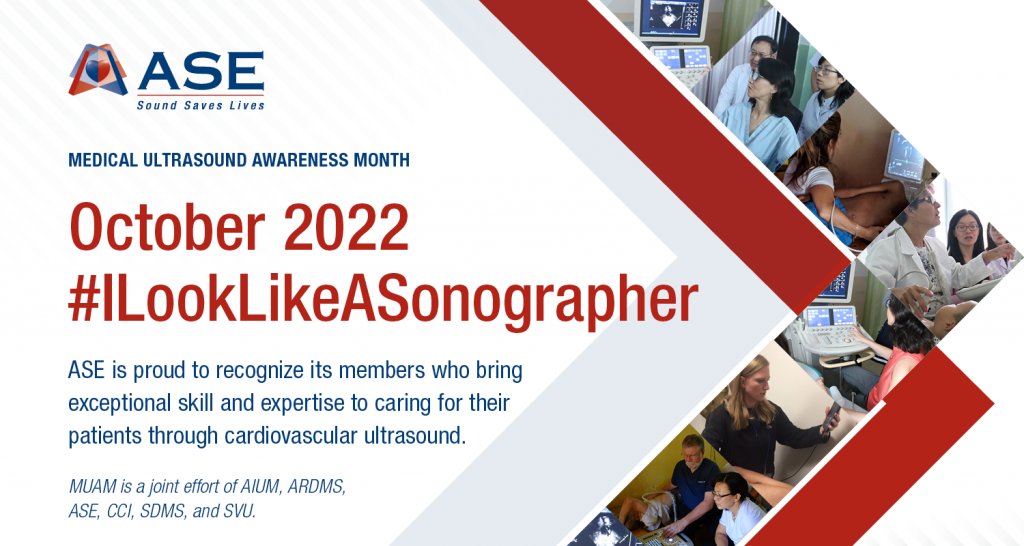 It's October, which means it's officially Medical Ultrasound Awareness Month (MUAM)! MUAM was established to help provide the public with a better understanding of ultrasound and the many uses of this fast-growing technology in providing diagnosis and prevention for many diseases. Echocardiography and Vascular Ultrasound are lifesaving diagnostic tools that positively impact the lives of millions of people each year.
ASE is committed to increasing awareness of the value that imagers bring to the cardiovascular ultrasound heart team year-round, but during MUAM and throughout the coming months, we are specifically celebrating the vital role of sonographers. ASE will share #ILookLikeASonographer posts on Twitter, Facebook, Instagram, and LinkedIn to celebrate our sonographer members and increase awareness about this important and rewarding profession.
There are four ways ASE members can participate in MUAM and ASE's #ILookLikeASonographer campaign:
All ASE Members are encouraged to like and share ASE's #ILookLikeASonographer social media posts on Twitter, Facebook, Instagram, and LinkedIn.
We encourage our sonographer members to share the reasons why you love working as a sonographer or why you chose a career in sonography by emailing a short quote and headshot/photo of you working in the echo lab to ASE's Marketing Department to be posted on ASE's social media accounts.
Show your appreciation for your sonographer colleagues! Submit a photo of a sonographer you work with along with an appreciation message to be shared on the ASE Foundation's website. Pictures and messages can be submitted to MCarmody@ASEcho.org.
Share your own user-generated content on your personal social media pages, and remember to tag @ASE360 in your post and include the #ILookLikeASonographer hashtag! ASE's official 2022 MUAM graphic is available in two sizes:
Click the graphics below and they will open in a new window. Then, right click and save the image to share on your personal social media profiles.
750 x 400 (Facebook, Twitter, and LinkedIn)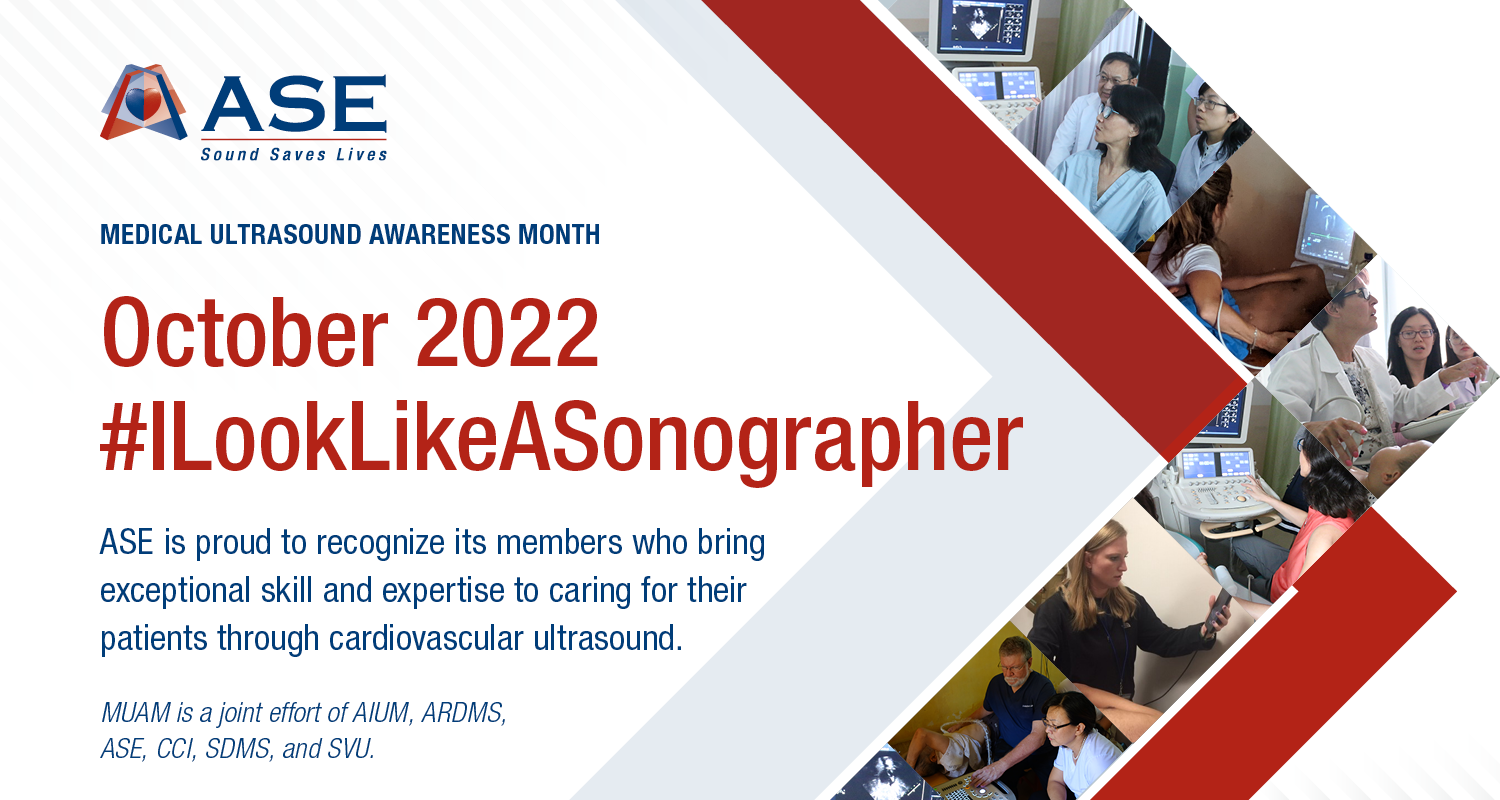 1080 x 1080 (Instagram)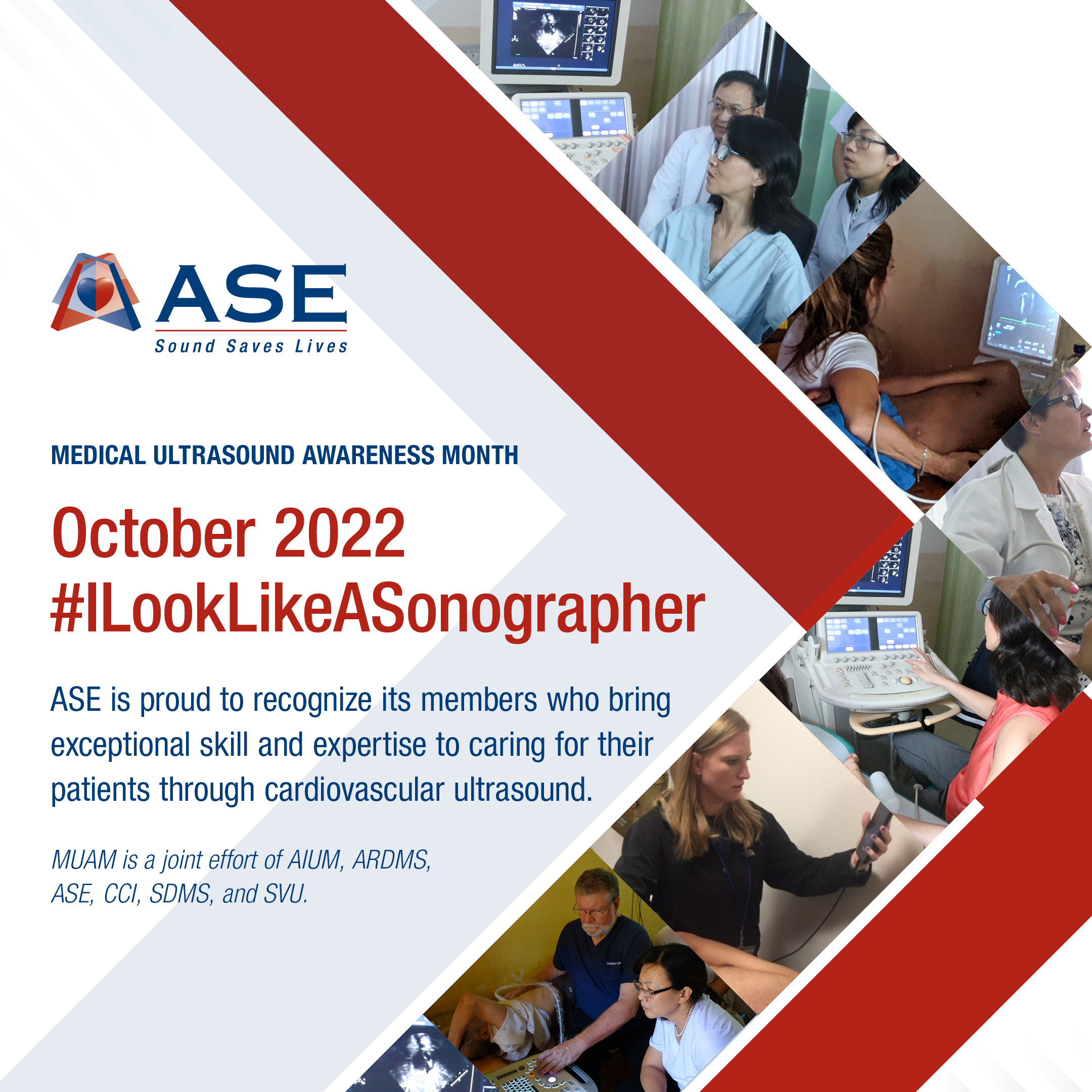 Sonographer Stories
"I recently performed an echo on a patient who had a pericardial effusion (fluid around the heart) and I immediately recognized that she was in tamponade (when the fluid causes hemodynamic compromise). Her blood pressure was dropping as I was performing the test. I called the cardiologist while in the room, and we had the patient in the heart catheterization lab within 5 minutes where I was able to guide the cardiologist so he could drain the fluid from her heart. This was a rare event after childbirth- but the patient (and her newborn baby) are doing great now!"
ASE is proud to co-sponsor Medical Ultrasound Awareness Month each October with the American Institute of Ultrasound in Medicine (AIUM), the American Registry of Diagnostic Medical Sonographers (ARDMS), Cardiovascular Credentialing International (CCI), the Society of Diagnostic Medical Sonography (SDMS) and the Society for Vascular Ultrasound (SVU).