Medical Ultrasound Awareness Month
October 2023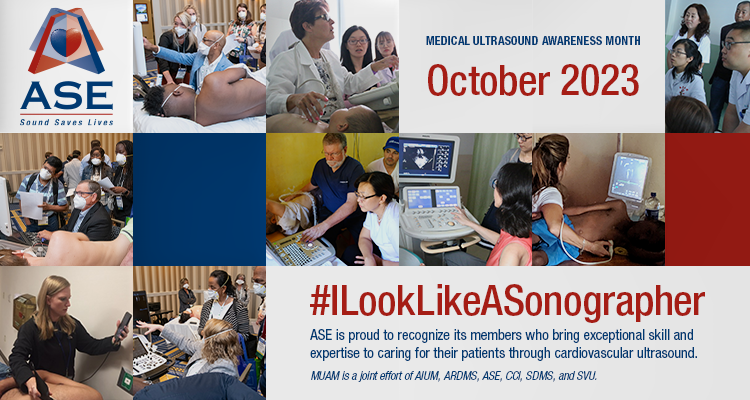 It's October, which means it's officially Medical Ultrasound Awareness Month (MUAM)! MUAM was established to help provide the public with a better understanding of ultrasound and the many uses of this fast-growing technology in providing diagnosis and prevention for diseases. Echocardiography and Vascular Ultrasound are lifesaving diagnostic tools that positively impact the lives of millions of people each year.
ASE is committed to increasing awareness of the value that imagers bring to the cardiovascular ultrasound heart team year-round, but during MUAM, we are specifically celebrating the vital role of sonographers and increasing awareness about this important and rewarding profession. Since its inception, ASE has included sonographers in its leadership and valued the teamwork necessary between the physician and sonographer to provide the best patient care.
Three Ways to Participate in MUAM:
All ASE Members are encouraged to like and share ASE's #ILookLikeASonographer social media posts on X, Facebook, Instagram, and LinkedIn.
Share your sonographer story with ASE! Email us a short quote about why you enjoy working as a sonographer or why you chose cardiovascular ultrasound as a profession. Include a headshot or photo working in your lab for a chance to be featured on ASE's social media accounts.
Share your own user-generated content. Remember to tag @ASE360 in your post and include the #ILookLikeASonographer hashtag!
Visit ASE's YouTube channel to watch videos captured during #ASE2023 featuring many of our sonographer members sharing why they love what they do!
ASE is proud to co-sponsor Medical Ultrasound Awareness Month each October with the American Institute of Ultrasound in Medicine (AIUM), the American Registry of Diagnostic Medical Sonographers (ARDMS), Cardiovascular Credentialing International (CCI), the Society of Diagnostic Medical Sonography (SDMS) and the Society for Vascular Ultrasound (SVU).