The role of echocardiography in detection and evaluation of valvular heart disease is a focus topic of the January 2023 JASE, now online. This issue also includes ASE's newest guideline, "Recommendations for the Use of Echocardiography in the Evaluation of Rheumatic Heart Disease," from Pandian et al.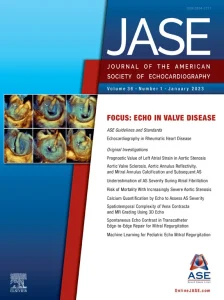 Patricia A. Pellikka, MD, FASE, who begins her tenure as JASE Editor-in-Chief with this first issue of 2023, said that she chose the focus topic to coincide with the publication of the guideline, putting out a call for papers last summer. Read Dr. Pellikka's first Editor's page, which offers insights on several of the clinical investigations. Editorials, brief research communications, and correspondence in this issue also provide further insights on echocardiography in valvular heart disease. The guideline is the January CME article.
The President's Message from Stephen H. Little, MD, FASE, shares the history of ASE's Leadership Academy, which was developed by the Governance Committee "to provide a way to engage our early and mid-career members to develop their leadership skills." If you missed the prior announcement of those who were recently accepted into the third cohort of the LA, meet them in his message! The continuing education and meeting calendar outlines a multitude of learning options near and far.