Updated:
This Statement is based on Centers for Disease and Control (CDC) guidance and will continue to evolve as the COVID-19 situation changes.  
At this time, ASE requires all participants (including attendees, faculty, and vendors) to be fully vaccinated in order to gain entry to any ASE live course. Participants will be asked to show proof of full vaccination* AND provide proof of a negative COVID-19 test (to be taken within 48 hours of the live course start date) in order to receive a badge at event check-in; badges are required to attend any live course activities. Face masks will also be required when inside for all participants at all ASE live courses.
Participants who cannot meet the requirements in this Statement, or are unable to attend an event due to travel restrictions, are encouraged to register for the course on-demand.
The following are (2) two acceptable ways to show proof of full vaccination status and (2) two acceptable ways to show proof of negative COVID-19 test at event check-in: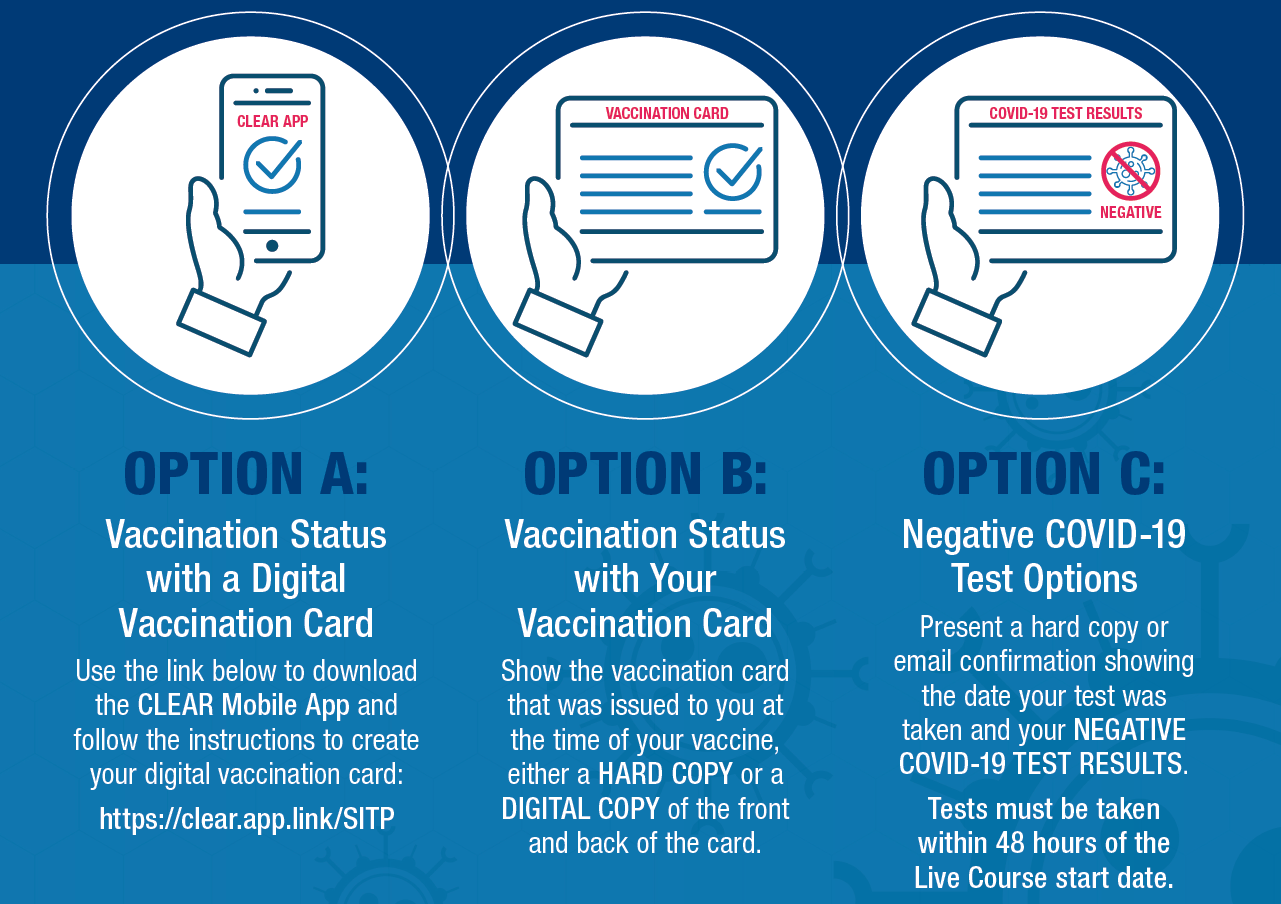 ASE is providing the following in partnership with the course hotel:
Spacious floor plans adhering to a minimum of 6 feet distance between participants.
Limited attendance.
Hand sanitizer stations positioned throughout the meeting space.
Disposable face coverings for anyone needing one. Attendees are welcome to bring their own mask, provided it follows the CDC's guidelines for wearing masks.
Sanitized meeting rooms, with a deep clean at the end of each day.
Signage to reinforce social distancing and other safety reminders.
An inherent risk of exposure to COVID-19 exists in any public place where people are present. COVID-19 is an extremely contagious disease that can lead to severe illness and death.  By registering for and traveling to any ASE in-person course, you (and any guests you bring) voluntarily assume all risks related to exposure to COVID-19. ASE is not responsible for any COVID-19 related expenses that could be incurred by any participants and/or your guests when traveling to any ASE in-person course (including, but not limited to: extended hotel stays due to quarantine, hospital visits and bills, and other direct medical costs).
As a participant, we also ask you to practice the following guidelines:
Before Leaving Home

Be fully vaccinated at least two (2) weeks prior to arriving at the event.
Obtain a negative COVID-19 test within 48 hours of the course start date. For example, if the course begins on Saturday, your test cannot be taken earlier than the Thursday before.
Follow relevant guidance provided by the Centers for Disease and Control (CDC), World Health Organization (WHO), and/or your local health authority.
Adhere to government issued travel restrictions and requirements issued by the region you will be travelling to and the region you are travelling from.
Evaluate your own health and that of people you are in close contact with; contact the ASE Meetings Department if you have concerns.
Stay home if you feel sick and/or are running a fever or experiencing other COVID-19 symptoms.
On-site During the Event 
Wearing face mask while inside the meeting area will be required. Be sure to reference the CDC's site for how to properly wear your face mask. ASE encourages all participants to continue wearing a face mask even when not attending course functions.
Whether during the meeting or off-site, continue to follow guidance from the CDC, WHO and the local health authority, for everyday preventive actions to help prevent the spread of respiratory viruses including:
Washing hands often with soap and water for at least 20 seconds, or an alcohol-based sanitizer with at least 60% alcohol. Avoid touching eyes, nose and mouth with unwashed hands.
Cover your nose/mouth when coughing or sneezing. Throw used tissues in trash.
Cleaning and disinfecting frequently touched objects and surfaces using a regular household cleaning spray or wipe.
Socially distancing when possible.
Post-Event
Based on current contact tracing advice from many health authorities, if you test positive for COVID-19 up to 10 days after returning home, please contact the ASE Meetings Department Manager, Jaclyn Levine, directly at JLevine@ASEcho.org. Should this happen, your name and contact information will be forwarded to the local health department. ASE will be required to abide by hotel policies which may require sharing name and contact information of the person exposed.
*Conference participants are considered fully vaccinated two weeks after receiving a single-dose coronavirus vaccine (Johnson & Johnson) or the second dose of a two-dose vaccine series (Pfizer and Moderna).
**Attendees are not required to create a Health Pass through CLEAR. Uploading a digital vaccination card through CLEAR to present at event check-in will suffice.