October is Medical Ultrasound Awareness Month. Medical Ultrasound Awareness Month (MUAM) was established to provide the public with a better understanding of ultrasound and its many uses of this fast growing technology in healthcare.  It also provides ultrasound professionals a chance to celebrate their profession.
ASE is proud to partner with the American Institute of Ultrasound in Medicine (AIUM), the American Registry of Diagnostic Medical Sonographers (ARDMS), Cardiovascular Credentialing International (CCI), the Society of Diagnostic Medical Sonography (SDMS) and the Society for Vascular Ultrasound (SVU) to sponsor MUAM annually.
Here are some ways to educate the public, raise medical ultrasound awareness, and celebrate your profession during Medical Ultrasound Awareness Month:
See My Heart:
Do your patients have questions about cardiovascular ultrasound?  Please suggest they visit SeeMyHeart.org, a patient information site dedicated to helping patients and the public understand heart and circulation ultrasound. SeeMyHeart also has an entire Cardiovascular Media Library featuring animations of cardiovascular ultrasound procedures and FAQs to help your patients learn more about echocardiography.
Echo AUC App
ASE's Echo AUC app, based on appropriate use criteria, was developed to help guide patient-physician interactions for the best patient care.  This FREE app is part of the Choosing Wisely® campaign and can be downloaded to your tablet or smart phone.  Simply search for "Echo AUC" in your Apple or Google Play store.  Support for this app was provided by the ABIM Foundation, as part of a grant from the Robert Wood Johnson Foundation to advance the Choosing Wisely campaign.  For more information or to see other lists of Five Things Physicians and Patients Should Question, visit www.choosingwisely.org.
Patient Guide PDFs
Download "A Patient's Guide to Heart Ultrasound" and "A Patent's Guide to Circulation Ultrasound." These guides help patients better understand the benefits of these procedures. Download these for free and  provide your patients a greater knowledge of ultrasound throughout the entire year.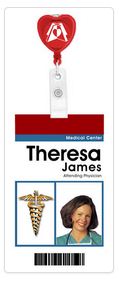 To celebrate MUAM, ASE will be sending a free "Have a Heart" Retractable Badge Holder with every purchase from ASE MarketPlace.This easy-to-use retractable badge holder lets everyone know you are an "ASE Heart and Circulation Ultrasound Specialist. You can also join Casey Blu on Connect@ASE as he shares, facts, trivia questions, pictures, and even a prize to help ASE members learn more, as well as provide the public with a better understanding of ultrasound, especially echocardiography, and promoting its value in healthcare.  The ASE member to answer the most correct trivia questions will receive a 16 oz. Tervis brand insulated tumbler with lid and straw.  Demonstrate your ASE pride with this double wall acrylic cup, great for the car or coffee table because they never drip and are dishwasher safe!