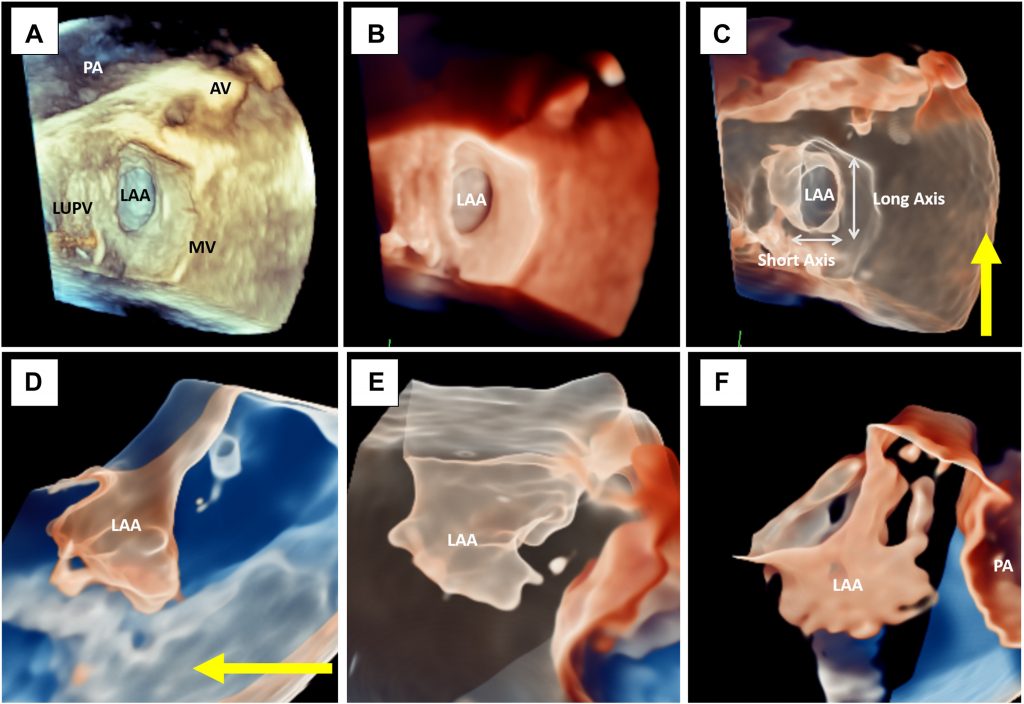 The latest issue of CASE is now available with fascinating reports, including "Left Atrial Appendage Tilt-Up-and-Turn-Left Maneuver: A Novel Three-Dimensional Transesophageal Echocardiography Imaging Maneuver to Characterize the Left Atrial Appendage and to Improve Transcatheter Closure Guidance" by Hayes et al. Author Dena E. Hayes, MD, remarked, "We're excited to share this report in which we utilize a case to outline our Tilt-Up-and-Turn-Left (TUPLE) Maneuver for imaging the left atrial appendage (LAA). This maneuver leverages newer transesophageal echocardiography post-processing technologies, specifically light-source manipulation and transillumination technologies, to produce a photorealistic rendering of the LAA. This novel LAA imaging method allows quick recognition of the three-dimensional shape and facilitates transcatheter closure guidance."
In a second Echo Innovation report, authors include intraoperative correlative images to reveal utilization of proximal isovelocity surface area methods in pulmonary vein stenosis measurements. This issue also contains three cases in Multimodality Imaging, including a remarkable look at a large cardiac cyst within the ventricular septum, the use of hybrid imaging techniques to guide a complex transcatheter repair of a degenerated aortic homograft with an anomalous coronary origin, and the application of multimodality imaging to evaluate a rare cardiac intimal sarcoma. Rare but Deadly Findings offers reports on extensive damage from a penetrating stab wound as well as a surprise captured on echo while searching for a patent foramen ovale. Dr. Sorrell's editorial dissects "omics," exploring how intersections of various technologies and clinical practices will impact the future of understanding and treating heart disease.
Looking for a journal to submit your case report to? We want to hear from you! Email us with questions or submit your report today. Be sure to check out the latest Sonographer Sound-Off and Unlock the CASE features on the CASE Homepage to view more extraordinary work from your colleagues.